Sipping an after-lunch coffee, Theresa M.V. Drake quips ruefully that she has brought the rains. True, she arrived the previous Friday to some of the worst showers to lash Sri Lanka in recent months. But flooded roads and thunderstorms notwithstanding, the dynamic US State Department program officer for South and Central Asia was soon heading down south to see firsthand, in a crowded classroom in Matara the results of some of the work she had been putting through from her desk in Washington, DC- half a world away.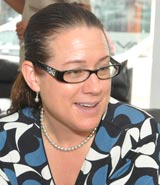 Theresa M.V. Drake
As she watched primary schoolchildren of Sujatha Vidayalaya, Matara clap their hands and recite in English, fully engrossed in playing a modified version of 'Simon Says' led by a young American on a Fulbright scholarship, Theresa was more than pleased with the impact of the new Énglish Teaching Assistant (ETA) programme her office has recently begun.
As an officer of the State Department, working for the Bureau of Educational and Cultural Affairs, in the office of academic exchanges which is responsible for the Fulbright programme, she has been liasing with local Fulbright Executive Director Tissa Jayatilaka in bringing three young Americans here to help with English teaching in Sri Lanka.
Every year the Fulbright programme which had its aegis through a visionary young Senator from Arkansas enables Americans to embark on study in other countries and similarly have scholars from those countries visit America. J. William Fulbright's legacy continues to be one of the most extraordinarily successful and enduring international exchange programmes, the aim being one of cultural interaction and the building of mutual understanding, the recipients being chosen through a stringent procedure and purely on merit. Theresa and her office of academic exchange work closely with the local Fulbright Commissions to help them programme the annual allocation that they get from the State Department that funds an even number of Americans coming here and Sri Lankans going to the US.
The core programme is for US scholars and students, Sri Lankan scholars and Sri Lankan students, Theresa explains. The Ämerican students are recent undergrads, some may have a Masters degree and they come here to do research not to lecture. The students from Sri Lanka on the other hand go to the US to follow a Masters and return with a Master's degree. "They're known for getting into terrific universities, with awards, tuition remission etc," Theresa remarks on how they have always been very impressed with the calibre of Sri Lankan scholars.
Fulbright's English Teaching Assistant programme is a first here, having been initially launched in Nepal. The response was so great that they decided to look to another Asian country- Sri Lanka was interested and so with the active participation of the local Fulbright Commission three young Americans arrived late last year to experience a whole different culture and share their skills.
Theresa herself has experienced different fields – armed with a degree in political science from the University of Washington in Seattle and a masters from Georgetown University, she started off specializing in Latin America but now affirms that she is well into South and Central Asia. Describing herself as a civil servant as opposed to the Foreign Service officers at the State Department, her portfolio includes Sri Lanka, Maldives and Pakistan.
The ETA though not one of their core programmes here is one that resonates with the Fulbright philosophy. Theresa explains that that the idea is to hopefully make an impact in improving English language skills – "they're not teachers or professors, but undergraduates with an interest in assisting in that capacity."
Particularly gratifying for her was being able to see the two young women ETAs in action at Sujatha Vidyalaya. "They go to the primary school in the morning and secondary school in the afternoon. They've had some training in methodology and they are working with the teachers, side by side in how they implement the curriculum in the classroom, and just enhance and supplement the teachers' classroom experience."
The day I was there they were actually teaching the curriculum while the teacher watched and gave pointers, she says. "The classes are quite large here when compared to the US and I sort of wondered how they would handle that, but they were wonderful. They were teaching 4th Grade class. They were asking them questions and the kids were very receptive. They seemed to have a sort of affinity with these young women - they're fun and they bring a different sort of attitude to the classroom – more interactive."
At secondary school level, Theresa shared in a session as their student advisor spoke to an eager batch about preparing for University and the two ETAs offered their experiences of college life. "It was really great to see their enthusiasm, she says of the Sujatha students."
Arriving in Sri Lanka on their nine month assignment, the ETAs were first given an orientation, then had language expert Michael Meyler teaching them Sinhala for- two months. "They raved about this," says Theresa. In January, it was off to the field and it has helped that they were received very well by the school.
Outlining the two primary reasons behind the programme, Theresa mentions the value of the exchange itself, in their mission of cultural understanding and the secondary aim of imparting some of their skills as native English speakers.
Teaching English is a priority for Fulbright in Sri Lanka, whatever we can do to help, both in terms of professors who come and help in curriculum reform and also now in this new initiative both at primary and secondary school level, adds Tissa Jayatilaka.
It's also an Embassy priority, affirms US Embassy Cultural Officer in Colombo Glen Davis, explaining that they are very keen to support different language programmes and could bring over English language specialists in the teaching and learning of English as a second language. 'We brought over Dr. Jill Robbins who spent two months at the University of Ruhuna working with the new English Teaching Unit there which was explicitly set up to train teachers of English at secondary schools. She did a big workshop for 160 provincial teachers."
The need is evident, he feels, with everybody, echoing the reality that proficiency in English is the key to job opportunities. That it helps with reconciliation, building a stable, united society by bridging the gaps that may exist is another factor.
Theresa's brief visit is over but she leaves full of optimism for the ETA programme, affirming that the next academic calendar which runs from September to June will see five ETAs coming to Sri Lanka. Änd while two of the current scholars are based in the South, there's no saying where the new scholars may be posted. "We'll see where they end up," she smiles, for there have been requests aplenty for them.