Books lining shelves and books lying on tables and chairs keep company with an assortment of art and religious objects, and mementoes from near, distant and exotic parts. Two original Stanley Kirinde oils and a certified copy of a David Paynter painting adorn the dining room and the hall. Representations of the Buddha are thoughtfully positioned around the sitting room, which opens on a wide balcony rustling with sun-shot greenery. Framed by potted crotons, ferns and bamboo is a stone Bodhisattva.
This is the private space of Russell Bowden – book-lover, theatre, art and music lover, traveller, explorer of Eastern religions, and constant librarian. Mr. Bowden's home is also thoughtfully positioned, set in a little side lane out in the leafy suburb of Pannipitiya – a sensible midpoint between city and countryside. The sense of country is reinforced by unfamiliar bird calls and other vaguely non-city sounds.
The chief occupant is quietly celebrating the completion of his M.Phil, having impressed his panel of judges at the viva voce a couple of days earlier. The subject: the transmission of the Buddhist Pali Canon.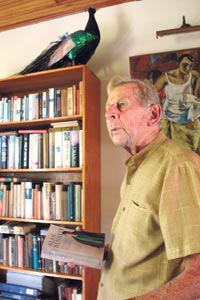 Ever the librarian, Russell Bowden makes sure his personal library in his Pannipitiya home, is in order.
Over the past 10 years, all of it spent in Sri Lanka, Russell Bowden has entered deep into the world of Buddhist texts – in both a spiritual and intellectual quest. Since his retirement from the British Council and his moving to Sri Lanka, he has been academically engaged in an attempt to fix that moment in time when the passing on of Buddhist sacred teachings started to shift from the oral to the written word – an apt pursuit for someone who is a retired professional librarian and who happens to have a burning interest in Buddhism.
Buddhism has been an increasingly important part of life for Mr. Bowden, going back to the days when he first came to this part of the world, in the Sixties, spending the first years in India, and then in Sri Lanka. He was chief librarian of the British Council, when the library headquarters were in Steuart Lodge, Kollupitiya.
Mr. Bowden handed in his M.Phil some three-and-a-half years ago, and has spent the intervening years working on his PhD, which he hopes to complete by February next year. When he returned to the country, this time as a full-time student of Buddhism, he was in need of guidance. He headed to the Postgraduate Institute of Pali and Buddhist Studies, at the University of Kelaniya, where he met Professor Y. Karunadasa.
"An absolutely superb man, Professor Karunadasa, and a superb teacher, now in Hong Kong," Mr. Bowden enthused. "Karu said yes, we can take you. What do you know about Buddhism? Not an awful lot, I said. Let's start at the beginning, he said."
"So I did the diploma course, and I did it twice. Although I had learnt enough to get through the exam, I wanted to do well. Then I did the Master's degree. When the exam was taking place, the British Council asked me to go on a trip to represent Sri Lanka at a World Bank conference in Delhi.
I went to Delhi and missed the exam. I took the whole degree again, with Buddhist monks mainly, all now my personal friends – Burmese, Cambodian, Bangladeshi, Sri Lankan. I got a credit pass for my Diploma, and a distinction for my Master's. So I'm very happy. I have entered on an M.Phil, but my subject is the same.
"I am a librarian. I am not a Buddhist. I think I'm nearly a Buddhist, a 70 to 80 per cent convert to Buddhism. I grew up a Christian."
The subject Mr. Bowden chose for postgraduate study seems an inevitable one for anyone with a career in librarianship. To his great surprise, it was a subject no one had attempted before. "It would have been very discourteous to my teachers and the monks I studied with if I did something on the Buddhist doctrine," he said.
"So I looked at librarianship and Buddhism. I thought: That's it – the transmission processes. The Buddha died. He wasn't a librarian. He left his words in a terrible mess, all of it in the minds of monks like Ananda and Sariputta. Nothing was written down out of that memory. The sacred texts were never written. They were words to be spoken and heard. Of course, this gave huge powers to the Brahmin priests. If they had the word, they had the information. Information is power. Those who have information have power over those who don't.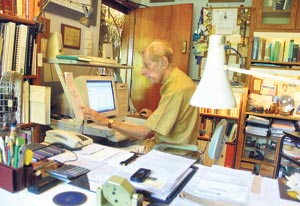 At work: Absorbed in the study of Buddhism
"So I started work on the transmission processes. My M.Phil takes it from pre-Parinirvana, just before the Buddha died, right up to the Third Buddhist Council in Pataliputra, under Emperor Asoka, around 247 BC. Then Mahinda with his entourage brought to Ceylon the text, the canon that had been agreed in Pataliputra. It was all in his memory when he started Buddhism here.
"For my PhD, which is three-quarters through, I looked at the processes of the transmission here in Sri Lanka. And from that I am giving papers –for the Sri Lanka Library Association, the Royal Asiatic Society, the Sri Lanka Association of Buddhist Studies. At the moment, I am assembling the project on the transmission processes of the Theravada canon for a publisher. Believe it or not, in 2,000 years, nobody has written about it. There's no book. So that's what I'm doing."
Surrounded by his books, Mr. Bowden looks pleased that it should fall to him to fill this particular gap in Buddhist scholarship. And he knows he is in the right place for carrying out the task.
"The wonderful thing about Sri Lanka is that this is a small country, and everybody knows everybody. If I am in doubt, I phone up or e-mail Professor Karunadasa in Hong Kong and say Karu, I have a problem, and he says, why don't you get in touch with so-and-so, his phone number is so-and-so. And you phone people up and they respond. They immediately help. If I have doubts, I climb into my car and drive to Polonnaruwa, or Anuradhapura. I will sit around in the ruins of the Abhayagiri, or the Western Monasteries.
"I prefer going to Polonnaruwa more than Anuradhapura, which has too much fluorescent lighting and too much concrete. Sri Lanka and the conservation people learnt from that mistake. With the help of UNESCO and people like Senaka Bandaranayake, Chandra Wickramagamage and Ashley de Vos, they have done first rate work in Polonnaruwa.
"You drive, or still better, cycle through Polonnaruwa, and the green sward is there, the trees are there, the monkeys are there, and you can really imagine what a magnificent city it was. It is superbly laid out. There's the city of the king, and the monks' city, with the Vatadage, the Hetadage, the various shrines for the Buddha.
"Then you go to the sites where they did the upasampada. Then the hospital, and the cells where the monks lived. Then you come to the Kirivihera, and then the Lankatileka, right by the Gal Vihare, with the Reclining Buddha. The Gal Vihare is for me a wonderful place. I take all my English friends there, and at the end of the day we lay flowers, and though they are Christian, they all do pooja."
Ever the librarian, Mr. Bowden demands to see a library, or even traces of one, wherever he goes. A library is the mark of an intelligent, sophisticated society, he points out. Not to have a library is to raise awkward questions and create a mystery.
"The thing that fascinates me is that nowhere, in Anuradhapura or in Polonnaruwa, does anybody know where the library was. Libraries existed in Nalanda, in India, at least by the 5th century. Fa-Hsien in 400 BC wrote about a three-storied library in Nalanda. And Taxila had a library. Libraries existed, so why on earth did they never come to Sri Lanka?"
A bird shrills outside, beyond the balcony. The corner of the eye notes something in the middle distance, above the balcony, leap from foliage to mango tree and disappear. Cat? Too fast, too big for a cat.
A moment later there is a thud on the roof. "Monkeys," Mr. Bowden chuckles. "We live in the jungle."
You can tell he is profoundly happy to be where he is, in his chosen jungle. "The thing I would like to stress is how a knowledge of Buddhism has given me a greater love and a greater understanding of Sri Lanka.
"For me, the real Sri Lankans are the ones you meet when you go outside of the city. You get off the Galle Road on the way south, you get off the Kandy Road, go to Bibile, go to Moneragala, Arugam Bay. There you find the real Sri Lankans. Humble, they know their worth, but they don't push themselves.
"Before I came to Sri Lanka, between '63 and '66, I was in India. In those days, the British Council had 18 libraries in India, so I travelled all over the country.
I disliked India for the first year – the poverty, the smells. My Indian friends said you can't change India, you're not Mother Teresa, you'll have to learn to live with it. So I started traveling with my friends. Driving to Simla, Masur, Corbett's park with the tigers, in Bengal. Travelling around. And then I was moved straight from India to Ceylon, as it was then called.
"Now, in India, I was wakened to Hindu philosophy, incomprehensible as it then was to me, and still is. The philosophy I can understand, but not the pantheon of gods. I was never interested in the gods, they were too complicated for me. But I was interested a little in the philosophy. When I came to Sri Lanka, I really didn't have much time to be interested in philosophy, and I had little time to look at Buddhism.
"My next posting was in Nigeria, and after that I went back to the UK. In London I began to mix with some Indian friends. They were all studying Hindu philosophy and doing meditation. There is a place called the London School of Economic Science, founded in 1932 by a Scots economist, who asked how anyone could study economics without studying the human being? And studying the human being took the Scotsman, who had never been to India, towards philosophy.
"For four years I studied Hindu philosophy. We had exercises to do, we had to learn Sanskrit, and we got very involved in the school. For instance, on a Saturday we'd go to a 12th-century estate house, just outside of Oxford, where we were restoring a church. Nobody looked at the amount of work you did. They listened.
"Russell, they would say. Why are you so angry? Think of the noise you are making. I would be sweeping and swearing: This bloody dust, I would say. And they would say, Russell, the dust has as much right to be there as you have. The problem is the dust in the wrong place. What you need to do is sweep it up and move it to another place. I loved the simplicity of the philosophy!
"And then we went on to tantric mathematics. I couldn't even get O'Level maths, in English, never mind tantric! So at that stage I gave up. But before that, for a year, I had practised meditation. My meditation teacher was a Lord, from the House of Lords, but you never knew his name. He was just a meditation teacher.
"That was not Buddhist meditation, the Vipassana meditation. This was about bringing the body into view. You concentrated on the existence of the body. Body consciousness. You knew you could never bring your mind into discipline. The Buddha said the mind is like a monkey, it jumps from tree to tree – you can't control it, but you can see it happening. After a year of doing meditation and exercises, I gave it up because of tantric math. It was a big mistake.
"Now we leap forward to 1994, when I retired. I was 65. I was happy to retire. I enjoyed my life, but I had other things in my life. I had a nice 19th century house, in Camberwell, South London, which I restored. I lived there for a year and I got bored. My friends were younger than me, and they were all working.
eekends they didn't have time for me. My passion is theatre, opera and ballet. The prices of the seats were going up. I would never pay 100 pounds for Pavarotti. "And I suddenly realised there was no way I could be happy. I saw some of my English friends getting old and waiting to die. I thought, oh no, not for me. And then a Sri Lankan friend came to London and said, why don't you come to Sri Lanka? What? Pack up my house and give up everything? I thought about it, and the more I thought, the more it made sense.
"I came on holiday and found that all my friends, not my British Council friends, but my Sri Lankan friends, were still here. It was just a matter of picking up the loose ends."
"I very much believe in the Buddha's idea that you give back what was given to you. When I came to Sri Lanka from India, I was a very raw British Council librarian. I was elected onto the Council of the Library Association, which was then only six years old, and I was on the council for four years. In a small way I helped to form the current Sri Lanka Library Association. But my international career took off then. I ended up being elected as the first vice-president of the International Federation of Library Associations. That was a great honour. And I can trace it all the way back to Ceylon. When I came back here, apart from studying Buddhism, I wanted to give back to the library profession here. That is what has brought me back into librarianship in Sri Lanka."
It is well past the lunch hour, but Mr. Bowden seems happy to go on. The conversation takes a new turn, this time it is about the theatre, one of Mr. Bowden's great loves. He starts to talk about how his love for theatre had led to a long journey across Europe and the Middle East in a Land Rover. He was heading to India to meet an Indian friend working for the theatre, but crashed the Land Rover in Iraq and was hospitalised.
When he came out of hospital, he needed work and took up a job at the British Council in Baghdad.
He was so good at his job that he was advised to give up the theatre, which he did. Eventually, he went back to England, qualified as a librarian and joined the British Council, which in due course posted him to India, and then to Sri Lanka.
A dozen tempting new conversation topics beckon, but we will have to save these for another day. As it is, we've travelled far in two hours, in time and in space, across continents and into the past, going back 2,500 years, and all the time making darting little detours into related topics.
The mind is a monkey, and we are amused, but we are both a little tired from keeping up with its antics.