It is one year since Michael Caderamanpulle (Mike) passed away suddenly leaving all of his friends and loved ones in a state of shock and grief. The shock has begun to abate over time, but the sadness and sense of loss has remained undiminished. The sense of loss is indeed compounded when considered in a wider national context, recalling, as one should, the impact of his life and work on many vital sectors of the economy.
Looking back on an entrepreneurial career spanning over 40 years, one thing that stands out is that Mike was clearly destined to be a pioneer in many respects. Way back in the 1960's , as a school leaver in his twenties, he founded the company named Ceylon Paper Sacks Ltd. and set up Sri Lanka's first ever factory for making Multi-wall Kraft Paper Sacks. The new venture was an unqualified success, and with the profits generated he embarked on several other trading and industrial activities. In the course of this diversification he ventured into the hotel business and set up, in the mid 1970s, the first Beach Resort Hotel on the East coast, Hotel Club Oceanic, which was situated on one of the most spectacular beachfronts in Trincomalee and became one of the most popular and sought after resort hotels among European tourists for many years.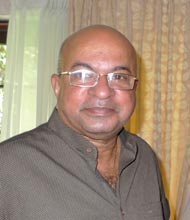 Industrial packaging, the activity with which Mike started, remained his forte and first love, and he had many other firsts to his credit in this sphere. He was among the first to commence the manufacture of Woven Polypropylene Sacks in Sri Lanka , and the one and only manufacturer of High Density Polythene Knitted Sacks used for packing onions and other agricultural produce. In the non-packaging sector he pioneered the production of Cultured Marble Bath and Sanitary ware in the 1980's.
The most important and outstanding contribution in the area of packaging was the innovative solutions Mike devised for the tea industry- which sadly are not sufficiently widely known. It will be recalled that what was used forty years back, for packing of tea for transport and shipping, were the then ubiquitous plywood tea chests. Today almost all teas are packed in paper containers of one type or another and almost all of the credit for this revolution in packaging of tea should, without any doubt, accrue to Mike Caderamanpulle.
At a time when plywood tea chests were hard to come by due to dwindling supplies and other factors like high cost and disposal problems were beginning to emerge, he had the foresight and audacity to introduce Multiwall Kraft Paper sacks as a substitute for tea chests. The innermost wall of the sack was laminated with aluminum foil to provide the required moisture and odour barrier to preserve the freshness and flavour of the tea. The use of paper sacks gained acceptance over time and paper sacks came to be used along with plywood tea chests.
One of the main disadvantages of the paper sack introduced originally was that it was not suitable for the packaging of large leaf teas which tended to get crushed by reason of the fact that the walls of the sack were flexible and so tended to cave in when stacked on top of each other. To overcome this problem Mike designed and crafted a paper sack using Kraft Liner Board for the sides and incorporated other features to enable it to retain the brick shape when filled and stacked. He obtained a patent for this paper sack under the name of "Container Pack" which gained acceptance by the tea trade. After further trials he designed and patented an improved version under the name of "Rigid T-Sack" which was much more cost effective and acceptable for the packing of large leaf teas.
These containers were developed after a great deal of preparatory work and trials conducted in consultation with the Ceylon Tea Traders Association, Tea Research Institute and others concerned. These were landmark innovations which enabled Sri Lanka to lead the world in updating and modernizing the way bulk tea was packed. The new containers have enabled the tea trade and industry to cope with ever increasing volumes of tea in circulation. All in all it was a lasting contribution which will remain unsurpassed for a long time to come.
Although packaging was his main interest and professional pursuit, he had a wide range of leisure time activities such as orchid growing, rearing of exotic birds, and even wild-life photography for which he developed a passion after his early retirement from day to day management of his business activities. Some of the stunning pictures of leopards in Yala and tigers in Indian wildlife parks which he produced during this phase bear vivid testimony to his boundless creativity and versatility.
A.B. Elkaduwe