The serene images of Lord Buddha that he makes are all in the Samadhi (seated) posture. Over the years, he has made hundreds and thousands of them for worship in homes, offices and temples all over the country. Of the various mudras (postures) of Lord Buddha such as reclining, standing etc, this skilled craftsman prefers to make statues depicting the Samadhi posture.
The reason, says P. Dharmaratne, is that statues of the Samadhi mudra of Lord Buddha are often used for worship in homes and his intention is to cater to such domestic needs.
Dharmaratne who has been in the field for about 28 years recalling what took him to this field, said that after he lost his job in the government sector he experimented by making various ornamental statues and wall plaques based on the Isurumuni lovers, the Goddess Venus etc.
On a request made by the village head priest to assist in sculpting several Buddha statues for the temple, he tried his hand at making Buddha statues and this became his sole interest thereafter. "After I started making Buddha statues, I realised there was a big demand," he said.
Elaborating on the process of making these plaster of paris statues, Dharmaratne says making large numbers is based on a single block of rubber. The plaster of paris mixture is poured in to a rubber mould which has a fibre layer on top of it. Once the mixture is poured into the mould, it is kept for three hours before the structure is removed from the mould.
How long it has to be dried in the sun depends on the size of the statue. Usually a statue of three inches is kept for two months to dry. This done, the next task is to polish and smoothen the sculpture. A chemical preservative is also applied for its protection. Whitening and colouring of the statues then take place with Dharmaratne's artistically inclined wife Shanthi giving the final touches. The statues made are of varied heights – generally ranging from four inches to three feet in height and they are sold at wholesale prices.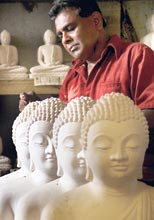 Dharmaratne: A labour of devotion.
Situated in the outskirts of Waragoda Kelaniya, Dharmaratne makes his statues on a rather small scale with two helpers.
"Most of my buyers are shop owners who sell them in their shops to local and foreign customers. I have come across several instances where shop owners have tried to keep large profits by selling the statues for high prices. What I sell for Rs.100 would be sold in the shops for about Rs. 375. Out of respect, the customers too would not try to bargain," he says.
The Buddha statues he makes are in temples all over the country and he cites the Samadhi statue at Dematagoda Naga Viharaya which he made 15 years ago and the main Buddha statue at Weliweriya Sivruwanmulla temple, adding that buyers also place orders with him to make sculptures to be sent abroad.
He believes if the making of Buddha statues is not done for sale, people would try to have access to the ones in temples and archaeological sites and this will result in statues of archaeological value being damaged.