Sri Sumangala College, Panadura Old Boys' Association, the prestigious Organization of former pupils of Sri Sumangala College,the premier Buddhist Institution in Panadura celebrates its 88th Birthday on Saturday, June 5, 2010. at the College Auditorium and with an old Boys' get-together followed by a sumptuous dinner at Blue Water Hotel Wadduwa at 6.30pm.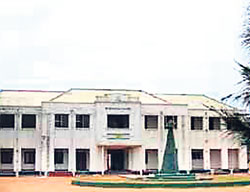 The Chief Guest is Lalith Weerathunga the Secretary to the President of Sri Lanka, together with Mrs.Weerathunga. Brigadier of Sri Lanka Army Sudath K.Perera an outstanding Old Boy will be the Honoured Guest at the event. A senior Member of OBA Mr.K.Keerthi Sri Perera who had rendered exemplary service to the OBA will also be felicitated.
Sri Sumangala College Old Boys' Association established in 1922 by the then Principal Abeyseela Ginige, has taken the initiative to uplift the Alma Mater to its present standard throughout it's history When Sri Sumangala was in need of expansion and planned to move its secondary classes to Nalluruwa, it was the OBA which took the initiative to establish Sri Sumangala in the new environment, prize distributions, sports meets and other social functions were always organized with the OBA taking the lead.
We invite all the Old Boys to join hands with the OBA in making our Alma Mater an incomparable educational Institution in Sri Lanka.
Long live Sri Sumangala College Old Boys' Association. Asiri Nirmala Perera.