The Sri Lanka Institute of Information Technology (SLIIT) has garnered recognition for educational excellence which spans over a decade. With 4 beautiful state-of-the-art campuses located in Colombo, Malabe, Matara, and Kandy, SLIIT has a student population of 5000 and has produced over 10,000 professionals to date, including 4000 IT graduates.
In recent years, the institution has reinforced ties with many prominent foreign universities, providing invaluable and diverse educational pathways for its students. The most recent agreement with Southeast Missouri State University adds yet another dimension to SLIIT's education platform, offering students more choices and unique learning experiences.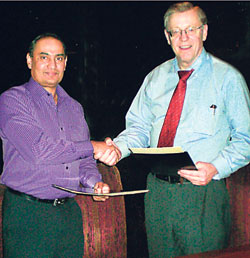 Professor Lalith Gamage, President/CEO of SLIIT and Dr. Randall Shaw Dean of the School of Polytechnic Studies at Southeast Missouri State University who signed the MoU.
Located on the banks of the beautiful Mississippi River, Southeast Missouri State University encompasses a diverse curriculum, facilities and student activities to cater to a student body which hails from all corners of the world.
The institution offers more than 1600 courses in the spheres of business, education, liberal arts, health, science, and technology and the visual and performing arts, and has more than 150 social and special interest student organisations. The University has been ranked No. 1 for producing the best-value MBA programme in the USA, and places a strong focus on job placement upon graduation.
"Our students seek new experiences and like to explore diverse cultures and environments, and we constantly strive to provide them with avenues and opportunities to create their desired educational pathways" states Professor S. Karunaratne, Chancellor and Chairman of SLIIT. Upon completion of two years of study at SLIIT, "students will have the opportunity to gain one of the best accredited U.S degrees within their next two years of study at Southeast Missouri State University" states Professor Lalith Gamage, President/CEO of SLIIT.
Dr. Randall Shaw Dean of the School of Polytechnic Studies, at Southeast Missouri State University who signed the MoU with Professor Lalith Gamge, stated that these accreditations include ABET-Accreditation Board of Engineering Technology, AACSB International - The Association of Advanced Collegiate School of Business, and NAIT-National Council for Accreditation of Teacher Education, among others. Janaka Herath, Managing Director of Progressive Academy (Pvt) Ltd who facilitated this tie up between the two universities claimed that the Progressive Academy has achieved significant success to negotiate for a $3000 guaranteed scholarship for SLIIT students who have a G.P.A. of 2.5 or above and the tuition fees to be maintained at less than $6000 annually.
This collaboration and scholarships will give SLIIT students the opportunity to obtain a US degree at a very affordable cost. Dr. Ragu Athinarayanan, Professor and Chairperson for the School of Polytechnic Studies and the Department of Industrial Engineering Technology said that the university currently has students from 41 different countries, thereby enabling them to internationalise the campus and create unique experiences within a multicultural milieu. "Currently there are three subject streams available for SLIIT transfer students; Information Technology, Computer Networking and Information Systems.
We guarantee scholarships for Bachelor's and Master's Degrees for SLIIT transfer students. Furthermore, SLIIT students will benefit with the on-campus career guidance centre for graduate students and be able to work part time (20 hours per week) on campus". The University assists in providing internships for qualified students as well. After completion of their degree, students will have the opportunity to work in the U.S for 12 to 27 months, depending on their field of study. "This provides an opportunity for Sri Lankan students to study and work in the USA and gain international exposure" claims Janaka Herath.
Dr. Randall Shaw observes that "There are good commonalities between our education systems and the high standard of education at SLIIT, and we look forward to working with SLIIT to provide not only a solid educational foundation for SLIIT students, but also to enrich their personal experiences".