The Loyalty Pledge Management Committee (LPMC) of the Royal College Union (RCU) marked the commemoration of the school's 175th anniversary in style by refurbishing the College IT lab, referred to as LAB 175 by donating 50 brand new computers to be used by College students as well as students from other schools, to enhance their computer skills and further their ICT knowledge. The lab was ceremoniously opened by the newly sworn in Education Minister Bandula Gunawardena on Tuesday, May 11.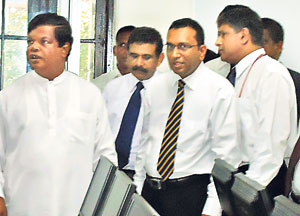 Education Minister Bandula Gunawardena inspecting the newly refurbished LAB 175
Assistant Secretary of the LPMC Pasan Wanigasekara told The Sunday Times that the committee's mission was to ensure that all Royalists enjoy a fruitful school career by providing them with the necessary infrastructure and facilities to prepare themselves for the world beyond the school premises. "We have to make sure they have the necessary skills and tools to face the competition because out there it gets really wild. Being equipped with knowledge gathered through the college curriculum won't suffice nowadays.
You need to have the soft skills or a technological background, etc. Our mission is to ensure that the necessary infrastructure is there, and also to support deserving students who do not have the financial backing to see through school - without having an impact on their studies or extra curricular activities," he said.
To date, the LPMC has donated over 100 scholarships annually and steps are now being taken to increase this figure. A deserving student, as identified by the committee, is provided a sum of Rs. 2000 per month. Those who enter university and whose performance is assessed regularly are also awarded scholarships. "We select and identify deserving students who are in need of financial assistance. We have a school scholarship scheme, an undergraduate scholarship scheme and also a sports scholarship scheme for those who excel in sports at school and national levels," he said.
Apart from this, the LPMC is also behind the mammoth Edex programme which has been a roaring success in the field of career guidance. "Our mission there is to be a facilitator in bringing together speakers and suppliers of higher education, training and employment. It's not restricted to Royal College but focused on the youth of Sri Lanka as a whole.
We want to make them aware of all the higher education and vocational training and employment options out there. We have a permanent staff, ready and willing to provide career guidance; and in addition to that, we have an online careers portal. Anyone can log on to www.edex.lk where they can submit a CV which will be automatically matched with our data base of higher education and vocational training options," he said.
Royal College was recently included in a list of 30 schools all over the world which were recognized by global software giant Microsoft as being "innovative schools." "One of the criteria Microsoft looked into was innovation in technology.
In line with this recognition, they expect that, by using it, Royal College will lend a helping hand to other schools as well. In order to better equip our students we must provide them with the latest IT infrastructure. So, in addition to the school curriculum, which includes IT as a subject, we want to give to the students a much more high-end subject, such as programming, so that they will have the necessary skills to further enhance their knowledge of IT or to secure employment. One aspect of this is to provide facilities to students.
We're trying to work out teaching programmes to take place in our labs where students from other schools can also take part," said Mr. Wanigasekara.