Sri Lanka's Commissioner General of Inland Revenue Department E.M. Mahinda Medagoda retired on Tuesday ending a 34-year long career at the department, officials said. His replacement is expected to be from the department, they said.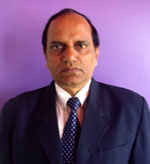 Mahinda Medagoda
The outgoing tax chief told Business Times that the department has been able to collect 60% of the tax revenue target of Rs. 274 billion for 2010. He noted that he has also been able to motivate taxpayers to make their payments in compliance with the authorities during his tenure of office.
He also took measures to enhance facilities at the department with the modernization of ICT with Asian Development Bank assistance.Mr. Medagoda was instrumental in introducing a convenient and a user-friendly e-filing system for the first time in Sri Lanka.
Mr Medagoda joined the Inland Revenue Department in 1976 as an assessor, and was promoted to the Senior Assessor Grade in 1986. He also served in the Co-operative Tax Unit where tax files of companies are handled.