Last week, the Business Times (BT) looked at an important issue surrounding Sri Lanka's tea industry over calls to create a tea hub by some traders who want the laws of the country amended to allow imports of other origin teas. Those teas would then be blended and packaged in Sri Lanka and exported. While some producers and exporters argue that free imports of multi-origin teas either from Vietnam, Kenya, India and China amongst other countries will adversely affect the Ceylon Tea brand and millions of workers employed in the industry, others feel there is a huge potential for a tea hub which would bring in much needed foreign exchange into the country.
Exporters: Need for standalone Free Trade Zone for tea
The majority of Sri Lankan tea exporters are advocating the creation of a standalone Free Trade Zone in Sri Lanka under the scrutiny of the Sri Lanka Tea Board which will allow exporters to import teas of other origins and blend within this zone only.
Speaking to the Business Times, Jayantha Keragala, Chairman of the Tea Exporters Association said that criteria could be laid down with a minimum percentage of Ceylon origin blended with other origins. "Such a requirement will create extra demand within the tea auction, especially from the lower priced teas, and this will be a boon to the local tea producers," he said.
He added that a standalone zone which is well monitored will also not damage the image of pure Ceylon Tea as all production will be done within this specific area.
Mr Keragala noted that making a hub for tea will see a significant multiplier effect within the economy as new opportunities arise for the ancillary industries such as packaging, banking, insurance, manufacturing and advertising and it will create more employment. In addition many of the larger global players will also be attracted to locate their facilities within Sri Lanka, he said.
He pointed out that if the possibility of blending with other origins of tea existed, then Sri Lankan brands have a greater incentive to continue production locally. Mr Keragala said exporters understand the concerns of producers and are sympathetic, as they themselves depend on tea cultivators for their exports.
"The price Sri Lankan teas fetch at the auction will decline and be in line with other auction centres if we fail to make Sri Lanka a hub for world tea and due to our higher cost of production, this will be the death knell of the tea growing industry in the island," he said. As more packers locate in foreign destinations, the export of value added teas will decline .and Sri Lanka will revert to a raw material supplier, he added.
This week we take a look at more of the pros and cons of a tea hub:
Director of Dilmah Tea, Malik Fernando says that there is no consumer demand for multi-origin teas and that calls for a tea hub by private label packers and traders have wildly exaggerated the benefits to primarily lower their blend costs. Mr. Fernando said the private label packers and traders have not taken into consideration the major impact on growers due to the inevitable drop in demand and the damage to the image of Ceylon Tea resulting from foreign tea being exported with a label stating it was packed in Sri Lanka.
Mr. Fernando said a hub makes sense in apparel but not in tea where 10% of the population is dependent on growing a unique, high quality tea. "Dilmah would be one of the biggest beneficiaries if we could use cheap imported tea as our brand is well established but it would be short-sighted," he explained. "All this hub talk is a smokescreen for lack of proper marketing. Trading is confused with marketing."
Managing Director at George Steuart & Company Dai Pathmanadan told the Business Times that there is huge potential for Ceylon Tea if authorities make the country a tea hub. Mr. Pathmanadan explained that George Steuart is an exporter of packaged and bulk tea and that a tea hub would bring in much needed foreign exchange to country. He said that restrictions on tea exports should be removed to allow more imports for re-export to cater to the high demand of Sri Lankan tea overseas and beat the high import duty imposed by many foreign countries. George Steuart was the sole packer of the UK Beverages Colombo owned Riston brand sold in Russia until two years ago when packaging was shifted to beat the import duty.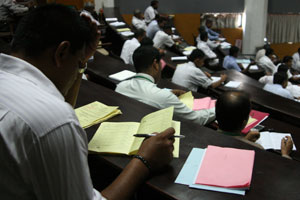 At the Colombo Tea auction
While advocating the imports of tea for blending it with Sri Lankan tea for the export market, President of the Association of Small and Medium Tea Exporters' (ASMTE) M.C.M. Zarook stressed the need to protect the pure Ceylon Tea from corrupt dealers both here and overseas. Mr. Zarook, who is also the Chairman of Sindbad (Pvt) Ltd, noted that packaging of tea in Sri Lanka on a large scale should be allowed to curtail the practice of blending Sri Lankan tea with inferior quality teas and cheap teas overseas.
Speaking to Business Times from his sick bed at Asiri Hospital in Colombo, Mr. Zarook noted that the racket of blending Sri Lankan teas with inferior quality and cheap teas like Vietnamese teas and selling it in the European market is continuing unabated. He added that he is in possession of shipping documents to prove that a German importer of Sri Lankan tea is engaged in re-packaging blended commodities as Ceylon Tea and selling it in various parts of Germany, thereby undercutting genuine tea exporters.
Mr. Zarook said the Germans are using registration numbers given by the Tea Controller's Department to certify their inferior quality tea as Sri Lankan tea. He said this re-packaging has been carried out in Germany over the past few years and that the Sri Lankan authorities have failed to take any action so far. He said that if the authorities allow importing tea and blending it with Sri Lankan tea, these foreign rackets will not be able to survive. He noted that the blending should be done with a high percentage of Sri Lankan tea in order to preserve the 'Pure Ceylon Tea' tagline and protect the local tea industry, particularly the cultivators and workers.