The International Monetary Fund (IMF) mission to Colombo led by Brian Aitken said last week that the overall economic conditions in Sri Lanka are improving as expected and the economy is likely to show strong growth this year.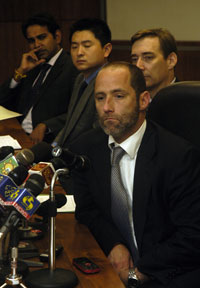 At the press conference
The mission will report its assessments to the IMF executive board in Washington D.C. and upon approval by the board, the third tranche of the IMF US$2.6 billion stand by arrangement should be disbursed within four to six weeks, Dr Aitken told reporters.
External balances are strong, remittance inflows continue at a high rate, tourism prospects continue to improve rapidly and gross reserves remain at comfortable levels, he added. At a press conference, Dr. Aitken said the mission held a broad set of meetings with government ministries, the private sector, the Treasury Secretary P.B. Jayasundera, Minister of Economic Development Basil Rajapakse and the Governor of the Central Bank (CB) Ajith Nivard Cabraal. He said the mission was briefed on the budget which is set to be submitted to Parliament in early June.
The main element for progress is a move towards sustainable deficit reduction which involves increasing revenue and decreasing recurrent expenditure. Dr. Aitken said the government is planning to begin undertaking comprehensive tax reform, drawing on reommendations from the Tax Commission which includes modifying Board of Investment (BOI) tax concessions. "Revenue enhancement will come largely from tax reform," he said.
Dr. Aitken described the current tax system as being skewed towards taxing a small percentage of the population at high rates. In the past, the Sri Lankan government has put in ad hoc tax measures to increase revenue.
He also said the government has acknowledged that there can be no macroeconomic stability without deficit reduction. The government is also engaged in state enterprise reform such as streamlining the power sector to bring down energy costs in the country.
Dr. Aitken explained that following the end of the war and the presidential and parliamentary elections held earlier this year, there are many opportunities for investors in the country. He said tax concessions are a small part of what attracts investors and that most important is a stable and predictable environment.
Dr. Aitken said the IMF is estimating GDP growth to be around 6.5% for 2010. He also said the ultimate goal of the government is to reach a budget deficit of 5% of GDP even though the 2009 budget deficit was 9.8% of GDP against a program target of 7%. The main factors for the overrun were faster than expected project disbursements, higher interest payments, weak revenue and post conflict rehabilitation and humanitarian expenditures. Since then, the authorities have met the program's end-March 2010 targets for net international reserves, reserve money and net domestic financing.
The first and second tranche of the stand by arrangement, amounting to approximately US$323 million was disbursed in June 2009 and November 2009.