American & Efird Lanka (Pvt) Ltd, the Brandix Group's world-class thread manufacturing company, has been designated the Strategic Sewing Thread Partner to the Department of Textile and Clothing Technology of the University of Moratuwa, under a new affiliation ratified recently.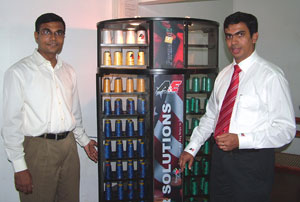 A Memorandum of Understanding signed by the two institutions envisages that A&E will also refurbish and maintain the lecture room known as TLR4, and sponsor an annual award for the Best Performance at Industrial Training by a student of the BSc Engineering degree program in Textile & Clothing Technology.
"The University of Moratuwa is one of the biggest contributors of graduates to the apparel sector, and A&E is privileged to support its Department of Textile and Clothing Technology, as its strategic sewing thread partner," said Janaka Gamage, CEO of A&E. "As one of the biggest employers in the sector, the Brandix Group is appreciative of the efforts to of the university to improve standards and motivate its students."
The MoU was signed by the CEO of A&E Lanka and Dr. G. L. D Wickramasinghe, the Head of the Department of Textile and Clothing Technology of the university. American & Efird Lanka (Pvt) Ltd., is a joint venture partnership between American & Efird Inc. USA, one of the world's premier Industrial Sewing Thread Suppliers, Brandix Lanka Ltd, Sri Lanka 's largest apparel conglomerate and Brandot International Ltd., USA . Established in 1891, A & E Inc boasts of over 115 years of textile experience.
urrently, the A&E global supply network has 29 manufacturing centers and 68 service centers located in 42 countries. Conferred the ISO 14001 Environmental Management System certification and endorsed as the Preferred Thread Solutions Supplier for the fourth consecutive year by the Sri Lankan Apparel Exporters Association (SLAEA), A&E's state-of-the-art manufacturing and total commitment to quality results in premier sewing thread products that are used worldwide.