Trekking through unfamiliar ground with nothing to guide them apart from a map, compass and a few clues, teams of girl guides set off on an adventure trek to celebrate hundred years of guiding.
While there were several events organised by the Sri Lanka Girl Guides Association (SLGGA) to commemorate this worldwide event , the highlight was an adventure trek organised by Wajira Silva, head of the Adventure Trek team and former Director of the Guide Branch.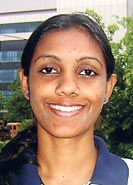 Prarthana
"We have our usual trekking places, but this time we decided to try some place different, Wilpotha in the Puttalam District. Also this time we organised the trek in a different way. Instead of the trek signs, we used compasses, pace counting, maps and had other challenges," says Wjira.
The team involved in organising the adventure trek put a great deal of thought and care into how the trek was to proceed and its smooth running.
"There were 12 of us in the team and we went around the area and put some treks in place. We wanted the trek to be perfect and so even the day before the trek we checked out the area, made sure the directions were precise by speaking to the locals. We had a good team and everyone worked together to ensure it was a success," says Prarthana Liyanage, a senior guide in the organising team.
The members of the organising committee went along with the participating teams and were responsible for each group of guides.
"We had an adventure team leader, who was involved in organising the trek, accompanying us but they didn't give any of the clues away. They were there to help us out in case we ran out of time," says Udesha Bopitiya, a senior guide who participated in the trek. Having found the experience thrilling and enjoyable even though she found it tiring, Udesha adds, "It was tiring but we didn't feel it much because it was fun."
Recollecting the adventure trek she says, "It was a different experience, something we hadn't done before. We had to pace-keep, climb trees to get clues and it even rained during the trek which made it even more enjoyable."
At the end of the trek, the girl guides met a group of local women who had started their own arts and crafts business. The guides spent time with thel women learning how they made their crafts and helping them out.
So through their celebration, the SLGGA presented girl guides with a memorable experience, infused with adventure.