Sri Lanka has once again been given the opportunity to shine at a prestigious international competition in Wales in July this year. The Soul Sounds Academy Choir, the children's choir of the well known Soul Sounds, (www.soulsounds.org), has been accepted to compete in the Senior Children's Choir Category at the Llangollen International Musical Eistedfodd competition in Wales.
This six-day festival of music, song and dance held in the Welsh town of Llangollen since 1947 has had world-renowned names like Luciano Pavarotti and Placido Domingo sing there in their younger years.
Soul Sounds, (www.soulsounds.org) have shone on an international stage- they won three gold medals at the last concluded World Choir Games in Austria, 2008, and two silver medals at the World Choir Games in China in 2006. They have also toured Australia, China, France, India, Kuwait, Austria, and have been true musical ambassadors of the country.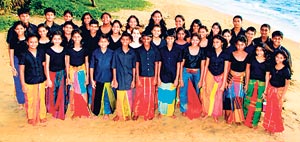 The group is now looking to give their children's choir a chance to showcase their talent at the upcoming festival. The Soul Sounds Academy Choir comprising members under the ages of 18, is directed by well known pianist and musician Soundarie David Rodrigo. Soundarie is the Founder and Music Director of 'Soul Sounds' and the Sri Lankan representative on the Council for Musica Mundi, part of the INTERKULTUR Foundation of Germany that hosts several prestigious international choral festivals and competitions.
Well known theatre personality Jerome L. De Silva is Artistic Director of the Soul Sounds Academy Choir. The choir will be conducted by Dinushka Jayawickreme, one of Soul Sounds' lead sopranos, who had the distinction of being first runner-up, at the same competition in the 'solo' category in 2004.
The choir has also been invited to perform at the International Children's Day celebrations, which takes place at the same venue, the day before the competition. This is bound to attract media coverage, including major channel networks such as the BBC, CNN, and classic FM.
Soul Sounds Academy Choir will present a fund raising concert with music from a wide range of genres on June 11 at the Lionel Wendt Theatre. The children's choir will also launch their first CD, which will also be the first for a children's choir in Sri Lanka.