You're trying to plan the perfect wedding. But you can't find shoes and jewellery to match your bridal gown and you're exhausted from days of stressful organising as the day draws closer. If this is the nightmare you are dreading, breathe a sigh of relief.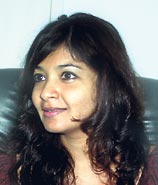 Sonali White de Silva
Designer Sonali White de Silva, who established the popular 'Haddai' label years ago launched a bridal package yesterday, which will make planning a wedding a truly pleasurable experience.
Having successfully designed complete bridals in the recent past, Haddai has now launched it as a part of their services. Brides to be and even the grooms can now sit back, put their feet up and let the professionals take on the designing.
The package includes managing of the bridal gown/ saree, shoes and jewellery. "We make made-to-measure gowns and sarees, design and make shoes and jewellery that could be a motif of the design on the gown. And we have also tied up with Triumph, because it's essential that the right lingerie is worn with the dress. Most often brides can't seem to find the right lingerie for their bridal gowns," says Sonali.
Coaxed into designing bridal wear by her customers, Sonali says she discovered that brides go through great pains to find shoes and jewellery that match their gown and more often aren't able to find what they are looking for.
Having tied up with Stone and String, Haddai will design jewellery that complement the motifs on the wedding gowns and have Stone' N String create it for the bride. The same goes for footwear. Of course, it doesn't happen overnight and prospective brides need to work it all out a few months ahead, Sonali advises.
They can also design the dresses for the bridesmaids and the outfits for the bridegroom and his entourage. At the moment they design Indian suits and evening wear for men.
In recent times, weddings are moving away from traditional settings. Weddings dresses are more adventurous and colourful and so are the wedding sarees, Sonali remarks. Stepping out of the hotels, more couples are opting for beach weddings and more bohemian ceremonies. Sonali says she enjoys designing for unusual weddings the most as they demand more creativity.
That being said, her team works closely with the customers and fashioning out designs that they want, to ensure their special day is exactly the way they've planned.
Model: Chula
Photography: Dhanush De Costa
Flowers: Samitha for Wedding Flowers
Hair and makeup: Arushi
Jewellery: Glamours