"In this our spacious isle", wrote Michael Drayton, back in 1613, "I think there is not one but he hath heard some talk of Hood and Little Johan." Even now, four centuries later, those words still ring true; Robin Hood's adventures in the forests of England stand among the nation's best-loved legends, in spite of the fact that, unlike the tales of other great heroes recounted in the vernacular – from Beowulf through to the knights of Arthur's court – Robin has a sketchy literary heritage.
With Arthur, many have heard his story, if not from the 12th century romancers, then certainly through Malroy, Tennyson or TH White; but who has read the 14th – and 15th century ballads such as A Guest of Robyn Hode, or Robin Hood and the Monk, or Robin Hood and the Potter? Not many. Even Sir Walter Scott's Ivanhoe casts Robin only as a supporting player.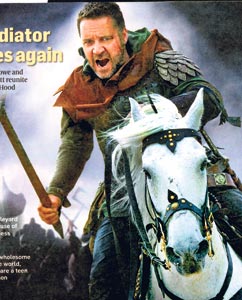 Robin begins: Crowe as an unconventional Hood, and left; with Ridley Scott and Cate Blanchett, who plays Maid Marian
Yet the legend lives on, ingrained in the national psyche, a tale spread all over the globe courtesy of his numerous outings on both the big screen and the small. Robin is a darling of the film-maker's medium, featuring in no fewer than 40 films and television serials, stretching back almost a century to Theodore Martson's 1913 silent movie Robin Hood. He is persistent, too, returning for yet another adventure this month, as the Gladiator duo Russell Crowe and Ridley Scott gallop from Rome to Nottingham, trading the hard-packed sand of the Colosseum for the rain-soaked sod of the greenwood.
"Robin Hood is something that's been in the back of my mind since I was a little kid," Crowe begins. "I was a big fan of the various TV shows and films that I saw as a child, with Errol Flynn and Richard Greene on TV, and the core of the story – robbing from the rich to give to the poor – I think that's a universal connection that everyone makes with Robin Hood, the fact that there's somebody out there that cares enough to try to redress the balance. I don't covet roles – I don't have that 'Oh, one day I'm going to do my Hamlet' kind of b-------t – but now, cut to however many decades later, this feels bigger than Ben-Hur."
To re-create their big-budget world for Robin Hood, Crowe and Scott have set up camp in Bourne Woods, near Farn-ham, Surrey (the spot, incidentally, where they unleashed hell on the Germanic tribes during the opening scenes of their 2000 Roman epic). All kinds of timber dwellings have been erected, while the gigantic, battlement-crowned face of a freshly built French castle glowers in the distance. All around, there's a buzz of activity as muck-caked medieval men rush hither and thither, lugging armfuls of arrows, shields, swords and chinking coats of chain mail. A big battle is about to unfold.
One of the opening scenes sees Richard I, the Lionheart, justifying his epithet as he returns from the Third Crusade, leading an assault on the aforementioned French castle. Blood flows and bones break as the besiegers breach the gates and the besieged battle back, pouring down a hail of crossbow bolts and torrents of boiling oil. In contrast to the famous screen retellings, from the likes of Douglas Fairbanks (Robin Hood, 1922), Errol Flynn (The Adventures of Robin Hood, 1938), Sean Connery (Robin and Marian, 1976) and Kevin Costner (Prince of Thieves, 1991), this story veers away from the localized outlaw's life in the forest, his daredevil duels with the sheriff and his merry life beneath Sherwood's soft canopy, the film-makers bidding instead to place Robin within the broader sweep of history.
"When the first script came to me, I said I'd do Robin Hood, but I wanted to do a fresh version where we revitalize every part of the story," Crowe continues. "I thought, 'IF you're going to revitalize Robin Hood, it can be done on the basis that whatever you thought you knew about Robin Hood, it was a preciously understandable mistake." Anyone expecting to witness all the traditional elements – Robin's on-log stave battle with Little John, Marian as a damsel in distress, plump feasts of roast venison and flagons of mead, plenty of good-natured derring-do – will be disappointed.
No doubt the studio funding the film would welcome a box-office smash and sub-sequent sequel, but the audience has first to respond to the opening chapter. In this version of the story, Robin carries the name Longstride, and is a humble yeoman, rather than a dispossessed noble (he becomes Robert Loxley on screen, but not by birth-right), an archer in King Richard's army.
Like the Robin from the ballads, he steals from the rich, but he gives to himself or to his own people (who are poor, admittedly). This is not, however, his prime vocation. (He does it only once throughout the entire film). His hard-drinking men, meanwhile (and only once are they termed "merry"), are grizzled-veterans of campaigns against Saladin and the armies of the East.
"The problem with doing a Robin Hood movie is deciding which parts you use and which parts you don't use," muses Crowe, who earned an Oscar for his performance as Maximus in Gladiator. "You have to say, 'Well, mine's going to be better because…' And that was an ongoing conversation." Indeed it was, and it went on for some time; Scott and Crowe were scheduled to finish their film months ahead of the actual delivery date. The production started in the summer of 2007, but halted as the film-makers struggled with the script. Only when they felt that they had a suitable starting point, in the spring of 2008, did they return to their locations and pick up tools again. The film was originally titled Nottingham, with Robin cast as the villain and the sheriff as a well-meaning public servant.
"When I read that particular script, and no disrespect to the guys who wrote it, but it kind of read like CSI: Sherwood Forest," Crowe explains. "And I just wasn't into doing that." His director is more vociferous. It was terrible, a page-one rewrite. If you're going to invest in a Robin Hood story, why call it Nottingham? You'd end up spending 80% of the publicity budget explaining why it's Nottingham, not just Robin Hood. It doesn't make any sense."
The film's final incarnation, however, does make sense, actor and director settling on a script that sees Robin return to England for the first time since childhood, earn himself a place in Nottingham, then fight to protect the land and woman (Cate Blanchett's tough-as-boots-yet-still-quite-trim Marian) he comes to love. The great events of the time – the plotting of the barons and the forging of Magna Carta – begin to take shape, while the threat of French invasion looms on the horizon, the story playing out against the unrest fostered by King John's edicts; his brother, Richard (who falls on the fields of France), has bled the country dry to finance a faraway war against a Muslim leader. The economy is crumbling and the people have fallen on hard times.
Over the course of history, the Robin Hood tales have evolved to reflect the times in which they're told – the original ballads are set in a violent world and tell of the peasants' ire at the grasping churchmen, while the Victorian tales celebrate Robin's synergy with nature and the greenwood – and some might seek social commentary amid Crowe and Scott's rendition. "The stories do evolve, and that's one of the reasons they endure," the director agrees, "but while we want to find a true historical world, we want the film to have action and drama, to be entertaining. Robin's stories were told as simple entertainment, and that was one of the keys to Gladiator: keeping the story simple."
The film, of course, has cast a shadow over Scott and Crowe since it battled its way to Oscar triumph. Every time the pair collaborate (they've subsequently shot four films together), critics draw comparisons. Even when they work with different people – Crowe on Master and Commander, for example, or Scott on Kingdom of Heaven – they cannot escape Maximus's shade. "It doesn't matter what we do, everybody always compares it to Gladiator," Crowe smiles. "We do a little comedy set in the south of France [A Good Year], and half the reviews had references to Gladiator. We do American Gangster and Body of Lies, and there's Gladiator references, so you're not going to win either way once you've made a movie like that.
"It's 10 years old and it still gets played on primetime television – it's just one of those films you have once in a career if you're really, really lucky. So, one way or the other, we're still going to get bashed for doing this, and the comparisons will be made."
Like Maximus, Crowe's Robin is honest and good-hearted, despite a rugged warrior's frame, loyal and brave, the ideal fabric for a heroic yarn, while his shorn hair and piercing glare echo those of the famous Roman general. There are differences, too: while Maximus was an aggrieved father to a murdered son, Robin is a surly son to a murdered father, his vengeance not so fierce. The tone of their Robin Hood is perhaps a little lighter than that of Gladiator, and the tempo runs at a different pace: it's gritty in places, and punctured with action, but, like a traditional epic, it builds towards a climatic final battle, as King Philip II of France bids for English soil.
"Basically," Crowe says, "if Gladiator was a metaphor for death, and possibly vengeance, then this is about the opposite. It's about life, it's about birth. All the characters you care about, their lives are changed for the positive by the end. The key thing is that it's entertainment; it would be disappointing if we'd made a dour version of Robin Hood."
Robin Hood was released on May 14. Courtesy The Sunday Times, UK, Culture Magazine.