The Supiri Mal Dakma exhibition
The Supiri Mal Dakma exhibition and sale of plants will be held at Viharamaha Devi Park from February 12 to 14 from 9 a.m. to 8 p.m. daily.
Of special interest for Orchid growers would be the talk by Susila Gunasekara, President, Orchid Circle of Ceylon, on Feb. 12 at 2 p.m. Supiri Mal Dakma is organized by Punya Kathirarachchi.
Manjula's 2nd exhibition
Manjula Janapriya Gamage's exhibition of paintings and sculpture titled 'The Unbreakable Pain' opens at the Lionel Wendt Gallery on February 12 and continues through the weekend till February 14.
In his sculpture he combines the mediums of brass, copper, aluminium and iron while his paintings are largely oils and acrylics. A final year student of the University of Visual and Performing Arts, Manjula focuses on power hungry politics and popular culture that have had a lasting impact, he says, on our lives.
This is the artist's second exhibition. The son of veteran art teacher Ariyapala Gamage, Manjula has had some recognition of his talent, winning the best costume designer award at the State Children's Drama Festival in 2002.
Appointed Justice of the Peace
Tilney Fernando of Mendis Avenue, Moratuwa has been appointed an All Island Justice of the Peace by the Minister of Justice.
Mr Fernando served the Surveyor General's Office for 25 years, ending up as its Administrative Officer. Later he joined the Velona Group as Supplies Manager. Subsequently he worked as a project officer for W.H.O and U.N.F.P.A and also as W.H.O. officer of the Family Health Bureau, Ministry of Health.
He has been the President of the Vigilance Movement in Moratuwa for over 35 years and President of the Civil Defence Committee of Idama Moratuwa. An active member of Lions International District 306 A1 Moratuwa for over 30 years, Mr. Fernando is a Director of Tilney Associates Pvt. Ltd.

SHARE Foundation celebrates 10 years
A large gathering attended the celebrations to mark the 10th anniversary of SHARE Foundation at St. Lucia's Cathedral, Kotahena. The Kotahena Community Nursing Service, founded by Celine Samarasinghe who is also its Project Director introduced this pioneer project to Sri Lanka in Nov. 1999 as a millennium project during the year of the elderly, to help and nurse the sick, mentally and physically disabled.
Celine has had the support of many volunteers - doctors, lawyers, accountants, bank managers, teachers, nuns, priests, many friends and family.
During the past seven years, the British High Commissioners have acted as the Patron of SHARE Foundation (Sri Lanka). There are 26 members of staff in the three centres at Kotahena, Kalutara and Alagollewe.
The celebrant at the thanksgiving service was Bishop of Anuradhapura, Rt. Rev. Bishop Norbett Andradi.
Parish Priest Fr. Tony Martin, the staff and the Board members of the Kotahena Health Centre and the young social committee worked hard to make this occasion successful.
Johnny Cash revived at Country Roads 2010
Country Western faithful are in for a treat on Sunday evening, February 21, at Thunmulla's Dutch Burgher Union, as the newest band added to the Country Roads concert.
Sri Lankan rising stars Wagon Park, is all set to wow genre enthusiasts with famous covers from Johnny Cash. They will sing some of Cash's best-known hits such as, "I walk the line", "Folsom Prison Blues" and "Ring of Fire" as well as the classic B.B. King hit "Rock me, baby" as well as Wagon Park's own original fan favourite "jing Bingy Blues".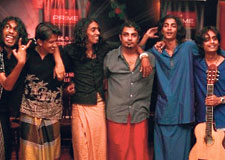 Wagon Park
Says Wagon Park's Milinda Batuvanthudave of the band's love for these classics and the genre, "Music is a way of divulging one's inner reflections and we find our counterpoint in the music of that era as it truly describes who we are and what we believe in."
In addition, the audience at this year's concert may just be lucky enough to experience the other local fan favourite Anno Domini's popular reprisals of such well known Country Western anthems as "Sweet Home Alabama" and "Have You Ever Seen The Rain" which drew huge applause from the audience at the Country Roads' 2009 edition.
Joining these bands, from the local music scene, are popular songstress Mariazelle, the Country Revival Band with Noel and beloved Sri Lankan comedian, singer and all-round entertainer Ronnie Leitch; all of who, importantly, will add a strong local flavour to a musical fair that would otherwise be overwhelmed by its hugely popular international acts such as Country Western stars Mavericks from Germany and UK folk sensations Astrid Brook & Amelie Chevalier.
While the music at this year's concert will again take centre stage, the cause for 2010 remains the same as always - Sri Lanka's children. This year's proceeds from Country Roads will go towards the very worthwhile national "Sevana Sarana Fund" for children's education, a cause recommended by Save the Children UK and further supported by the country's Department of Probation and Child Care Services.
For more details and to even contribute to this worthwhile cause before the concert, please call Feizal on 011 2 304 179. Tickets for the concert are priced at Rs. 500.
Designs that are simply different
A major design exhibition "Conscious, simple -consciously simple - The Emergence of an Alternative Product Culture" focuses on pieces of furniture, luminaries and home accessories. Organised by the Goethe Institut Colombo (German Cultural Centre) in collaboration with the University of the Visual and Performing Arts, the Academy of Design and the Moratuwa University, this new German design reveals various trends and different design approaches.
The biggest exhibition of design ever to be held in Sri Lanka, this German exhibition has been travelling in 29 cities all over the world and will be held from February 10 to March 2 at the Faculty of Visual Art, J. D. A. Perera Gallery, University of the Visual & Performing Arts, 46, Horton Place, Colombo 7.
The newly opened Gallery of the University of Visual and Performing Arts will host a selection of 65 objects and a total of 122 exhibits by 35 German designers and designer groups. The organizers plan to jointly exhibit a selection of Sri Lankan objects of contemporary and indigenous design, made by young designers and students of design.
Furniture is not only shown as a functional product but becomes a topic of aesthetic thought and design.
The objects chosen do not stand out for their luxurious materials or complicated and costly production processes, but for their robust materiality, plain configuration, simple and practical handling as well as comparatively low prices, not withstanding some humour.
The demand for simplicity of materials and production processes also leads into a new design consideration, i.e. ecological quality which, however, is not the primary aim for selection. Rather, designers try to create designs that also convey sensory pleasure.