It's a clear day and gazing at the azure sky, Mohammed Hanif bluntly confesses that he hadn't been good at potato farming, the family business which he went back to when he was unsure about making it as a journalist. "You just sit there watching potatoes grow. You wait for months and months and you don't even know if anything comes out of it," he laughs, as he tucks into breakfast.
Trainee fighter pilot, fashion journalist, political journalist, playwright, screenwriter, foreign correspondent, one-time potato farmer and of course, award-winning author- Mohammed Hanif, who was in Sri Lanka for the recently concluded Galle Literary Festival, has had a wonderfully diverse career that would be the envy of many.
His debut novel, 'A Case of Exploding Mangoes' was hot off the presses when it was longlisted for the 2008 Man Booker prize. The novel which alternates between the narratives of the mordant Ali Shigri, a junior officer at the military academy and third-person glimpses into the life of General Zia ul - Haq, former president of Pakistan, falls somewhere between the lines of a love story and a thriller.
The novel, which exploded into the literary world and went on to sweep the boards at the 2009 Commonwealth Best First Book Prize, has been hailed by critics. Veiled with dark humour and through the bustle of conspiracy, Hanif's characters come to life with a few, carefully chosen words. General Zia under Hanif's ruthless satirical knife, is depicted as a pious, paranoid dictator while OBL, 'a lanky man with a flowing beard' of 'Laden and Co. Constructions' casually makes an appearance at a Fourth of July party in Islamabad.
Hanif readily adds every conspiracy theory which surrounded the mysterious plane crash and then some, resulting in a fusion of fact and fiction. What really happened on that fatal flight which killed General Zia on August 17, 1988? Why did the C-130 Hercules – 'Pak One'- begin nose diving and rising intermittently (a phenomenon known as 'phugoid' in the aviation world) four minutes after taking off and finally crash, killing everyone on board?
Was it a clear-cut case of machine failure, a canister of nerve gas or the C.I.A? Or blind Zainab's curse (a woman under a sentence of death for adultery, despite the fact that she was being gangraped when the offence occurred), a crow, an army of tapeworms or the narrator, Ali Shigri himself? Your guess is as good as ours.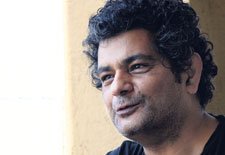 Mohammed Hanif
"One of the most difficult things when writing a full length book is that very soon you start having doubts," explains Hanif who started writing the novel out of sheer boredom. "Whether this is worth it, whether this is any good, would anybody want to read it and more importantly, whether I am interested in this or not. I think a point comes - I don't know when it comes or how it comes - when you yourself get interested in finding out what will happen next. So I think that in the end... that's what keeps you going – curiosity about not knowing."
Despite his success, the tousled author remains humbled by his accomplishments. His yardstick for measuring his success would be a complete outsider getting interested in his work - which is quite specific, and set in a particular period and culture - and liking it: "One reader somewhere who picks up your book without knowing anything about it, and starts reading it and wants to keep reading."
Straight from high school to the Air Force at the age of 16, with no formal university education and little or no reading material at home, he found himself being immersed in the exceedingly well stocked army library and ended up spending a lot of time there. Building on blurred memories and textures of his own experiences at the Air Force along with occasional research on the internet, Hanif laughingly recalls how an innocent question posted on a military website led to an accidental implication that he was planning a terrorist attack.
Combined with his first name , the question about external checks on a plane (where you go around the air plane physically looking at it before you actually do the real check), triggered a wave of responses. "Within 20 minutes there were people thinking they had nabbed a potential Al-Qaeda person," chuckles Hanif.
Upon being questioned about what lured him to Pakistan after 12 years in London, his answer comes without any hesitation – "Simple. Because it's home". With Pakistan constantly in the headlines , Hanif carefully explains that while parts of the country were really troubled with the danger of violence spreading to other parts of the country, certain aspects of the country tended to be coloured in black and white. "There is also the other part of the story where most people in Pakistan don't support what's happening. And that part usually gets ignored in the media. We get lost in body counts and do these cartoonish villains and tend to forget that there might be other things involved in this place which might be interesting," he elaborated.
The author who first visited Sri Lanka in 1989 - incidentally his first (and admittedly rather harrowing) visit to a foreign country – was completely unaware of the JVP uprising at that time and spent two and a half days holed up at a hotel in Colombo. Reflects Hanif - "One thing that is sadly common is this violent streak, this strand that runs through our political history and our political presence."
"I think we both eat food which is too spicy and we both have this unhealthy obsession with cricket," quips Hanif remarking on other parallels between Pakistan and Sri Lanka, adding that his young son was ecstatic about bumping into former Sri Lankan cricket captain Mahela Jayawardene and taking a picture with him.
Hanif is currently working on his second book and constantly making discoveries about its plot and characters while writing it. "It's kind of about an obsessive type of love that we sometimes have at a certain age."
With novels being churned into movies, would Hanif like to see his book on the silver screen? "I keep joking that it might work better as a stage musical. Although I hate musicals myself, I just have this vague, weird feeling it might work better and I think it'll be quite fun" he smiles. "Or even a video game," he laughingly adds as an afterthought.