Whoever thinks that book talk is for stuffy, musty academic settings, and conducted mostly by stuffy, musty, professorial types, should head to the thoroughly unstuffy, totally exhilarating Galle Literary Festival.
Sunny, outdoorsy and bustling, the Galle Lit Fest (which concluded last Monday) is probably the most sheerly enjoyable literary get-together there is, attracting writers and book lovers from everywhere.
Talks, readings, workshops, book signings, tours, dinners, parties – and all that action interspersed with the liveliest of book chat. Guests and participants must have marvelled at how much fun the organisers had packed between the covers of the Galle Literary Festival 2010.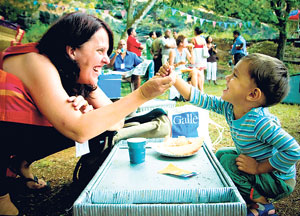 Writer, artist and Galle resident Juliet Coombe and son Samadh amuse themselves during a hopper snack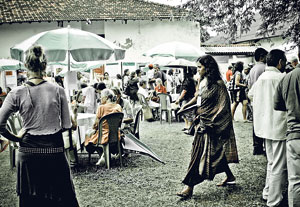 Festival director Sunila Galappatti, at right, making sure that all's going according to plan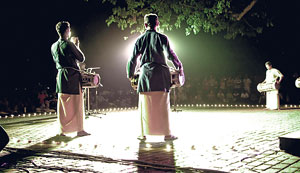 The Ravibandu Vidyapathi Drum Ensemble entertains the festival crowd in the Law Court Square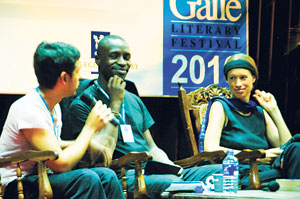 Writer Diran Adebayo, centre, fields questions at a panel discussion in the Hall de Galle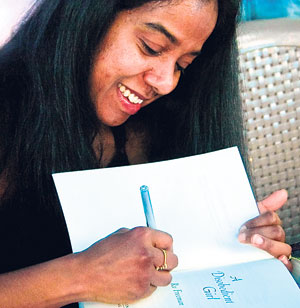 New York-based, Sri Lanka-born writer Ru Freeman autographs her debut novel, "A Disobedient Girl"

Book chat out on the lawn of the Hall de Galle, in the Dutch Fort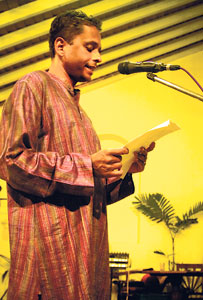 Sri Lanka-born, Canada-based writer Shyam Selvadurai at a Lit Fest fringe event held at Closenberg Hotel, Galle