The procession was a solemn one. Although the distance to go was short, just across the road, deep was the emotion. For it was the funeral procession of one of the two mascots of the Gangarama temple. Eighty-year-old Menike better known as Wennappuwe Athinna had breathed her last at 9 p.m. on Tuesday, surrounded by monks and devotees and was laid to rest at the Muttiah Park on Wednesday. The other is the majestic tusker.
"She was with us for 20 years," says Ven. Rathanasara Thera, explaining that she was donated to the Gangaramaya by devotee Don Yasapala Jayasuriya. The Gangaramaya well known for caring for animals of all types and providing elephants for peraheras across the country, did the same with Menike.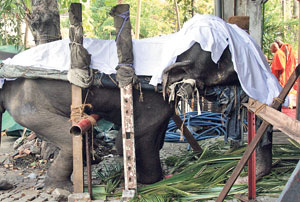 Religious rites being performed at the temple (below) for the 80-year-old she elephant (above).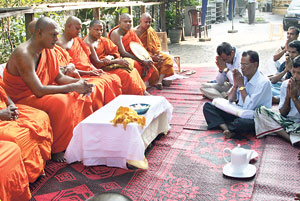 Wennappuwe Athinna had taken part in numerous peraheras for many years, taken by lorry to such places as Kandy, Kataragama, Bellanwila, in addition to taking part in our very own Navam Maha Perahera, says the Thera.
About three months ago arthritis wracked her body, and every effort was made under the guidance of Podi Hamuduruwo to care for her. She was well looked after, he says, explaining how Veterinary Surgeon, Dr. Kodikara would give her saline intravenously from her ear. "Around 3,000 bottles of saline were given to her," says the Thera.
As it was not good for an elephant to fall when ill, they built a messa so she could rest comfortably, according to him. The devotees who thronged the temple used to bring her fruit, he says, adding that she was a tame and friendly animal. "There is much sorrow over her death because it is like losing someone really close to us after having stayed in the temple for so long.
" Earlier though fed with kitul and pol athu, other leaves and also fruit such as banana, in her last days she could hardly eat. So she was given apples. "She was such a vegetarian that she wouldn't eat even a piece of cake as it had egg."
Don Yasapala Jayasuriya, a resident of Wennappuwa who donated the cow-elephant to the temple, said that he saw the animal about 20 years ago being used for heavy work at a timber mill.
"At that time, I was in Sri Lanka on vacation from the USA and when I saw how she was being exploited, I felt sorry for her. It was then that I decided to buy her and donate her to the Gangarama since I knew that Podi Hamuduruwo is fond of elephants. She was brought by her mahout on foot from Wennappuwa to Hunupitiya," he said.
Mr. Jayasuriya had visited Wennappuwe Athinne while she was ill, taking bananas for her just two days before she died. When Podi Hamuduruwo phoned him on Wednesday morning to give the sad news, he felt an immense loss.
After the pansakula ceremony, with 14 monks and a large group of her admirers in attendance, Wennappuwe Athinne lies buried under a tree in a corner of Muttiah Park close to her home, the Gangaramaya, where she held many a visitor and passer-by in awe.