All they've ever known is a country at war. They've grown up with bomb blasts and terror attacks, death and destruction in the shadow of a 27-year long civil war. For Sri Lanka's youth, the 62nd Independence Day which was marked on February 4, was thus especially significant for it was their first Independence Day free from war. Though still grappling with the scars left behind, they have much to contribute in the process of healing and reconciliation.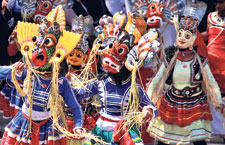 Freedom in the air: Scenes from the Independence Day celebrations in Kandy.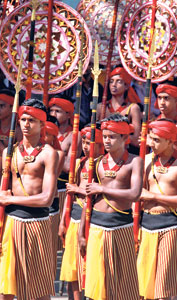 With the parades and Independence Day celebrations, the Sunday Times took to the streets to speak to young people who have lived all their lives in the backdrop of the ethnic conflict. Here are some of their thoughts about Independence Day in post-war Sri Lanka and their aspirations for the country.
"This is a historic Independence Day. I am positive about the future. I think we finally have hope for a better Sri Lanka now," smiles Damith (22), a cab driver. "My only hope is that now Sri Lanka will cast aside ethnic, religious and social barriers and step forward into the future."
Nuwan, 30 is of the same opinion: "This is the ultimate independence. Personally, I'm happy about this. We can go around freely and go to places we would otherwise not have the opportunity to visit." He feels that with the end of the war, it is time to develop other parts of the country, like war-ravaged Jaffna for instance, and turn them into commercial hubs like Colombo, thus solving the problem of overpopulation in Sri Lanka's capital.
A student at Colombo University, Tharanga, 30, is emphatic - "This is a victorious independence day for all Sri Lankans." His friend Hasini* (24), while acknowledging its significance this year, demurs voicing that it is merely another day.
"While it's great that the war is over, even with the absence of war, every day is a struggle. We are independent only in name. The ethnic conflict is over, but now the political conflict is taking its toll on the country," she says ruefully, adding that Sri Lanka seems to be trudging along the same path as Iran.
"I have a hollow feeling about this Independence Day," says 28-year-old Buddhist monk Ven. Nanda Thera. "It doesn't make much of a difference for me and it's as though we have no authentic independence. We are deprived of our freedom of expression and I really feel that we can truly celebrate Independence Day only when the whole of Sri Lanka stands united as one, regardless of any barrier whatsoever."
There are also a significant number who remain indifferent, such as Praseedh, 25. "As of today, there's nothing I feel different about. There are fewer checkpoints and I'm definitely happy about that," he shrugs saying that there is a lot of money being wasted on tamashas and the like which could otherwise be put to good use. "But I'm optimistic. I hope it will change. I hope the future of Sri Lanka will be good," he adds.
Hansa, 25 is in two minds. "We may be 'independent', but in terms of economy and the likes, we are far from it, aren't we? The future? Well, it looks a little uncertain to me. We'll have to wait and see I suppose."
| | | | |
| --- | --- | --- | --- |
| | | | |
| Nuwan | Ven. Nanda Thera | Praseedh | Hansa |
"I feel happy that this Independence Day is not shadowed by the presence of the war," says Sumaiya* (20). "We should now focus on developing our country economically and culturally."
Says Chinthaka* 20, "I'm much happier than what I was last independence day because of the end of the war. But I'm disappointed in terms of the way the IDPs are being treated and that there is virtually nothing being done in terms of reconciliation." Chinthaka believes that until we Sri Lankans identify ourselves as Sri Lankans, racism will be prevalent.
Irosha and Deepika remain optimistic about the future. "It's as if we've got a new kind of independence," smiles Irosha, 25. "I sincerely hope that the country's leaders will now strive to develop the country."
"It's something that our people can be proud about," says Deepika, 25, speaking about the importance of marking Independence Day in a united Sri Lanka after 27 years. "Our president has a vision for the country. It is hoped that he will work towards it in the years to come and develop our country to its fullest potential."
Overall, the feelings were mixed. While some of the young people had something positive to say, others refused to comment saying that while we may have independence we don't have the freedom to express ourselves. There were also those who were indifferent about this Independence Day being the first in more than two decades that was free of war. To them it was just another day, though they were glad it was a holiday.
*Names changed on request