In keeping with MIT Cargo's 'Go Green' initiative, the organization together with the Central Environmental Authority (CEA) recently conducted a seminar for the Hayleys Group employees on eco friendly practices.
According to a MIT Cargo statement, Champika Ranawaka, Minister of Environment and Natural Resources was quoted at the seminar as saying that 86 per cent of global economic achievements are based on oil, gas and coal. "Oil sources will diminish by 2015 and by 2050 oil will no longer be an economically viable source," he said, in the statement.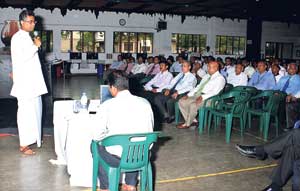 Minister Ranawaka at the event
MIT Cargo's 'Go Green' programme comprises of four main initiatives, 'Recycling of polythene,' 'Food waste,' 'Paper collection' and 'Drive Green,' and the company plans to introduce several more elements in the future.
The company further said it aims to promote eco friendly practices among all Hayleys Group companies, while hoping to introduce the concept to factories in the Free Trade Zone which would have a greater impact on the environment.
Under its 'Recycling of Polythene' project, MIT Cargo hands over all polythene waste to the KISOK centre operated by the Colombo Municipal Council for recycling purposes. The company's 'Food Waste' project results in food waste being handed over to a collector to feed animals on a daily basis. Food Separation for recycling at the lunch room is another initiative conducted under Food Waste project, the statement said.