The Federation of Information Technology Industry, Sri Lanka (FITIS), which represents the ICT industry association, has joined hands with the Presidential Task Force for English and IT to strengthen its efforts in the national drive to improve the standard of English and Information Technology skills of the younger generation.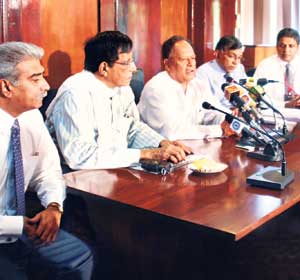 Dr Sarath Amunugama addresses the event where FITIS pledged support. Govind Nangrani, Chairman of FITIS is on the left.
"Together, we will implement far-reaching programs to improve English knowledge and IT skills of our educated youths," said Dr. Sarath Amunugama, Minister of Public Administration and Home Affairs who is also the Chairman of the Task Force.
Govind Nangrani, Chairman FITIS expressed his commitment to work in close co-ordination with the Task Force to contribute to the growth of the English Language and ICT skills of the Sri Lankan youth. He said that in addition to the many initiatives that the member organizations of FITIS have already performed in the past, the Federation now plans to carry out three new initiatives.
These programmes will be carried out on an accelerated schedule, to be completed within the year 2009. They are aimed mainly on the development in English and ICT in the non Colombo centric regions and focuses on the rural youth.
---
E-Asia takes Sri Lanka's IT revolution forward
There is no doubt in anyone's mind that this week for Sri Lanka's ICT industry was all about e-Asia 2009, the international conference and exhibition hosted by the country's Information and Communication Technology Agency (ICTA) from December 2 to 4 at Colombo's BMICH. If there was any doubt about its importance in the sphere of local ICT, one would only need to spend a few minutes at the conference venue to see virtually every one of the country's top ICT chiefs who allocated a lot of their time being on-site over the last few days, either attending sessions, chairing them or even just personally coordinating the schedules for their company's regional figureheads who were also in town for the conference.
With revised estimates of 30,000 visitors attending the exhibition over three days as well as 800 delegates participating at the conference from 24 countries, there is no doubt that e-Asia 2009 is the biggest ICT event to be hosted by Sri Lanka to date. Further, with over 200 speakers and 50 thematic sessions scheduled over five tracks, e-Gov, e-Health, Digital Learning, Emerging e-Technologies and Telecentre Forum; there was truly an overwhelming array of technical papers and discussion topics mooted over the almost 3 full days of presentations. In this page, the Business Times provides its readers a snapshot encompassing a set of diverse presentations and complementary ICT related events associated with e-Asia 2009.
(Compiled by Jagdish Hathiramani, the Business Times specialist technology reporter
---
eAsia Conference snippets Internet, photocopies and faxes popular at Nenasalas
Top demands of Nenasala visitors include Internet access and ICT courses for youth, and photocopy, fax and typesetting services for older users, according to a study which interviewed 76 telecentre operators (out of a total of 97 Nenasalas available in the area studied) and 138 "beneficiaries" of these services based in the Galle, Matara and Hambantota.
This study, which formed the basis of a paper titled "Analysis of factors affecting the effectiveness of telecentres of Sri Lanka", was conducted by L.N.A.C. Jayawardena and A.D.S. Gunasekera; and recently presented by Mr. Gunasekera at the Telecentre Forum track of the e-Asia conference held this week.
SL below world average in e-Gov readiness
Sri Lanka is below the world average in e-Government readiness but this situation is improving. Further, only about 15% of e-Government projects are successful while the others usually result in total or partial failure, according to a presentation title "e-Government Programme Implementation: The Sri Lanka Case".
30-40% of telecentres use laptops
About 30% to 40% of telecentres use laptops instead of desktops due to poor power supply conditions, according to Intel's World Ahead Programme Manager for South Asia, Srinivas Tadigadapa.
He said while Sri Lanka was one of the first to start a Nenasala programme in the region, new successes for programmes it was "going towards", such as broadband for all, would require technologies such as WiMAX which offered end point connectivity at a capital expenditure of US$ 15 per point.
He also noted that, because connectivity was the central need of telecentres, those that had connectivity problems often showed revenue reductions of as much as 50%.
Rural care made lucrative for private doctors with aggregation
A pilot e-Health project in rural India has successfully bundled curative care, along with the opportunities it provides to the private sector, with preventive care to create a common "non-negotiable basket" whereby grass root level e-Health clinics are aggregated to negotiate with specialists so their services could be retained and rural patients can access them via telemedicine. This system, called "Sky", also allows e-Health clinics to remain active and promote preventive care amongst villagers, and society in general, both of which are more likely to benefit from prevention than cures.
---
Digital divide now 'digital divergence'
Due to the wide use of mobile telephony, it is no longer true that much of the world does not have access to information.
Recent ITU data, from end 2009, indicates that 4.6 billion people have mobile phone access, with the greatest growth recorded in Latin America, Africa and Asia. Because of this, while many think that the digital divide has been fixed by mobile access, this may not be the case since not everybody has iPhones or similar smart devices to make full use of the Internet, just basic prepaid phones (limited capacity mobiles), so the problem has changed from surmounting the digital divide to closing the 'digital divergence'.
Meanwhile, ITU data also shows that, while fixed line telephony growth remains at a plateau over more than a decade, Internet user and subscriber numbers have increased, with user numbers increasing substantially more than those of subscribers. One explanation for this is that people are sharing Internet access, such as in cyber cafes, libraries and telecentres; according to Dr. Florencio Ceballos, Digital Inclusion Programme Manager at telecentre.org / International Development Research Centre.
He added that there were more than 3 billion people who use the Internet out of public access venues such as telecentres. Further, he indicated that, much of the time, the most important part of the telecentre experience for users was not the obvious advantages of accessing technology or information but rather the relationship with the telecentre manager that was the key to its continued popularity, especially amongst rural folk.
Stating that there was increasing opposition to the idea of telecentres in the field of ICT because of the limitations this would have on the ability to sell computers, software, etc., Dr. Ceballos went on to say that it was OECD members like Germany, US and UK that had the most advanced telecentre policies, mostly because of the access it granted to the lower 20% of income earners in these countries.
Commenting on the charge that telecentres were unsustainable, Dr. Ceballos outlined cases from Malaysia, India and Sri Lanka which documented this business model's ability to sustain itself, due mostly to the efforts of the social entrepreneurs operating them who provided unique, community-specific offerings and earned multiple revenue streams; such as immunisation schedules and reminders for young parents, etc.
---
Evolving broadband needs will result in network crashes
The levels of broadband connectivity required by today's tech-savvy younger generation has already begun overwhelming what is currently available in the market.
This discrepancy will ultimately lead to a crash as demand continues to escalate and older tehnologies are slow to upgrade, according to Dr. Mohammad Shakouri, Vice President of the WiMAX Forum; the body tasked with fostering wireless broadband adoption, the so-called 4G (4th Generation) of mobile technology, over more restrictive technologies such as the 3G model that is currently available in Sri Lanka.
He added that today's youth have migrated from a text based web to a non text-based medium which was all about real time access to video, social networking, music, etc., with much of it being accessed all at once.
He added that the customer profile for broadband was also evolving; from individuals to now cities.
He further alluded to a hesitation on the part of telecommunications companies to fully commit to broadband as they make between US$ 10 and US$ 50 on customer phone calls every month and the broadband revenue model could not replicate these revenues while at the same time also requiring as much as 100 times more capacity. This may also explain the sluggishness of broadband connectivity, which averages out at speeds of as little as 256 kbps internationally, and the fact it is only being utilised by about 15% of the world's population.
---
Local body launches wireless broadband
A local body tasked with fostering the 4th generation (4G) of mobile technologies, WiMAX wireless broadband, was launched recently in Colombo on the sidelines of the e-Asia ICT conference and exhibition.
This body, Sri Lanka's WiMAX Forum, is just the third such body, after India and Pakistan, launched in South Asia.
Said to be "industry-led", the body will comprise a local committee as well as co-chairs. This announcement comes on the heels of the country's Telecommunications Regulatory Commission (TRC) recently adding the "radio spectrum in 2.3 GHz and 2.5 GHz bands for Data Operators" to a previous allocation of "3.4 GHz band for PSTN Operators" for WiMAX deployment, the newly allocated spectrums will also comprise 30 MHz of spectrum, which will enable the servicing of between five and eight million subscribers at the speed preferred for high quality transfer of rich online content, 4 Mbps.
So far Dialog Broadband Networks, Suntel and Lanka Bell all offer WiMAX services with a total of 375 operating base stations and about 12,000 customers. The new spectrums, which have already been allocated to Sri Lanka Telecom's Sky Networks, will translate into broadband services for customers by early next year.
According to TRC Director General, Priyantha Kariyapperuma, considering that Sri Lanka had 4.5 million households with mobile telephony access as well as 13 million active SIMs, the most recent two million over the last six months, and with the price of Sri Lankan voice tariffs being the lowest in the world; the spread of the Internet was not very impressive.
He added that this situation would be improved with more players offering broadband as well as the continued fall in international tariffs, which dropped 40% over the last 18 months, and expectations of greatly reduced broadband prices over the next year.
Said to be the lowest cost, most pervasive technology available today, WiMAX benefits from the fact that it is an open Intellectual Patent technology, which was developed by 25 organisations, a factor which kept the cost of the technology low. Further, it has been indicated that, in approximately two years, WiMAX will come already in-built into laptops, netbooks, smart devices, etc., similar to WiFi, which is currently a feature in most devices.
---
IT and foot technology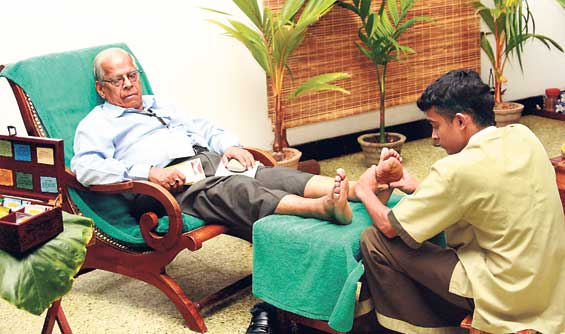 At the e-Asia Centre, Siddhalepa had a place where weary participants could get a foot massage. Here one such guest relaxes while his feet are massaged. Pic by J. Weerasekera