Ruwan Edirisinghe, Chairman, RN Constructions (Pvt) Ltd was adjudged the 2008 Entrepreneur of the Year at the 14th Annual Sri Lankan Entrepreneur of the Year 2008 Awards organized by the Federation of Chambers of Commerce and Industry of Sri Lanka in Colombo last week.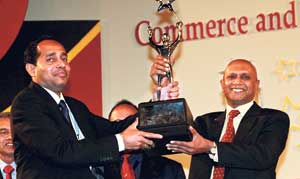 Ruwan Edirisinghe receiving his award
Mr Edirisinghe, speaking after receiving the award, was critical of the Government's industrial policy saying it's ignoring the local industrialists when implementing development schemes. He said that the government has allowed a large number of foreign labour to work in Sri Lanka on development projects and said that Sri Lanka is seriously suffering from a huge unemployment problem. Chinese prisoners work here free of charge while Sri Lankan labour has to be paid for and part of them also idle without employment. He said that not only Chinese labour but also Indian labour is freely deployed.
He said that due to the global economic crisis, the construction industry was hit by 50 % and urged the government to award them development work rather than providing it to foreigners.
Dwelling on his success story, Mr Edirisinghe said that his was a extremely arduous and difficult journey where he survived against tremendous odds since when there was political turmoil in the country and university students were facing serious problems. He said that the terrain was the toughest as even after being a engineering graduate he chipped cement and bent steel and now has climbed to the top most position of the Entrepreneur of the year. He paid a tribute to his staff for the assistance to achieve this feat.
The award for Young Entrepreneur – Extra Large was won by Pryantha Ranuge, Director Rathna Producers Cinnamon Exporters (Pvt) Ltd and the Extra Large Gold was won by Richard Jayatissa, Managing Director, Richard Trading Co (Pvt) Ltd.
Prof Tissa Vitharana, Minister of Science and Technology, speaking as Chief Guest, remarked that Sri Lanka has 'missed the bus' in picking up technology to the advantage of developing the economy and said while Sri Lanka lagged behind, countries like Korea employed Biotechnology and Electronics to progress and alleviate poverty.
He said that the gap between the rich and poor countries is the technological gap and said that Sri Lanka could have some hope to develop Nanotechnology to fill this gap and noted that they are working on it.