Dubai's recent financial woes may affect Sri Lankan job seekers in the future if there is a downturn in employment in the Gulf state. Chief Executive Officer of SriLankan Airlines, Manoj Gunawardena told the Business Times this week that so far the airline's daily flights to Dubai have not been affected but that they are keeping a watch on news from the Gulf nation. Dubai sent shockwaves through the financial community last week when it announced it was seeking a delay in meeting its debt repayments, totalling a staggering US$80 billion from various international banks including banking giant HSBC and Standard Chartered Bank.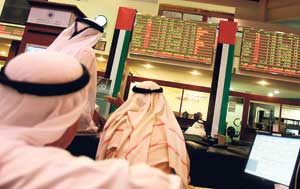 Emirati men follow the market's movement at the Dubai Financial Market in the Gulf emirate. The Dubai and Abu Dhabi stock markets plunged by 6.25 percent and 5.91 percent respectively in early trade, adding to the heavy losses amid continuing concern over Dubai's debt woes. AFP
"This is a busy travel period and bookings are made in advance," Mr. Gunawardena said. However, he explained that there is a time lag in any upturn or downturn in bookings. "Part of our business is carrying employment seekers to the United Arab Emirates (UAE). If there is a downturn in employment or a downturn in the construction industry, there might be a decline."
A senior economist explained that remittances from Dubai may not reduce much as Sri Lankan workers are quite intrepid and will move on to Saudi Arabia which is embarking on a massive and much more sustainable infrastructure development programme for middle class cities and educational and industrial complexes which will last for over a decade. However, he said that holders of Sri Lankan government bonds might think twice about subscribing to future issues.
The economist added that unless significant economic growth and export diversification happens soon, the Sri Lankan government could face the threat of higher inflation in 2012 and a weakening debt service capacity for the government. The coming elections will be watched closely and it is hoped that once they are concluded, the government that is formed will set the stage for a strong structural basis for rapid economic development. President of the Association of Licensed Foreign Employment Agencies Association W.M.P. Aponso said construction workers from Sri Lanka were sent back from Dubai during the early stages of the global recession but the problem has subsided to a certain extent.
He said only time will tell how Dubai's latest financial crisis will affect migrant workers in construction although the services sector should remain unaffected. "It all depends on the improvement of Dubai's financial situation." Mr. Aponso said migrant workers are also going to Doha, Qatar – in large numbers -- for work.
Banking experts say Sri Lanka does not have much exposure to Dubai and will not be affected by its recent financial troubles. One senior banker in Sri Lanka told the Business Times that only the international banks which have loaned money to Dubai will be seriously affected.
He said Sri Lanka does not have much in terms of imports or exports with Dubai except for tea. He added that it is up to the monetary authorities in Dubai to find a solution to the problem.
The Wall Street Journal reported this week that the Dubai government would issue US$20 billion in long-term bonds and that the first installment of US$10 billion was fully subscribed by UAE's central bank. The bond issuance is expected to provide Dubai with necessary liquidity to substitute the liquidity that has dried up globally in the last 12 months and accordingly, meet all upcoming financial obligations.
The Journal further stated that the cash infusion from the UAE comes as Dubai's once soaring real- estate market comes crashing down.
Falling prices, some down by 50% or more, have burned speculators who never intended to hold onto properties in the first place. Sales have plummeted, crimping cash flow for developers which are now scrambling to shed employees, cancel or postpone billions of dollars worth of projects and extend installment plans to avoid missed payments.