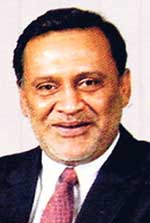 Susantha resigns from NTB board
John Keells Holdings (JKH) Chairman Susantha Ratnayake has resigned from the board of Nations Trust Bank (NTB) in line with Central Bank rules, the bank said on Thursday.
The statement said that under the Corporate Governance regulations in the Banking Act, the maximun period a director can serve is nine years and Mr Ratnayake completes nine years at the NTB on December 8, 2009.
Krishan Balendra also from JKH has been appointed by the NTB board to fill the vacancy created by Mr Ratnayake's resignation which is effective from December 1. JKH has a majority stake in NTB.