Inmates of IDP camps would be free to leave from Tuesday onwards without any condition being imposed on when they should return, with the camps being declared as 'open camps.'
There will be no restrictions imposed on the duration of their absence from the camps as well.
The Government has declared that anyone would be able to leave the camps once they have given their personal details to the camp authorities when they would be given a token which needs to be returned upon coming back to camp.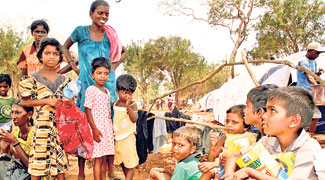 Children at an IDP camp . Inset: A general view of a camp
Around 128,000 people remain in the camps at the moment while around 145,000 have been resettled already. Government sources confirmed that around 9,000 people had been resettled this week from all the camps. Resettlement and Disaster Relief Services Minister Rishad Bathiudeen said that as of December 1 inmates would be able to freely leave and re-enter the camps once they have registered their details with the relevant authorities.
Minister Bathiudeen said that around 2,200 people were resettled on Thursday and Friday while a further 1,000 people each are ready to be resettled tomorrow and on Wednesday in the Killinochchi District. He added that the Government has planned to resettle all the IDPs by the end of January next year, which plan is said to be going according to schedule.
However, despite the Government's plan to resettle all the IDPs by January 31, the Government's open camp policy which is to be declared next week will not require the IDPs to return to the camps once they have left, giving them the freedom to leave the camps to resettle themselves.
Meanwhile, the Health Ministry reported that there is a marked reduction within the last few weeks of cases of communicable diseases such as chickenpox and measles within the camps largely due to the resettling of over half the initial number of IDPs as well as due to the immunization programmes being carried out.