A large number of Sri Lankan migrant workers who have taken refuge under a bridge in the Saudi city of Jeddah have contracted influenza and been affected with skin diseases after they were drenched in flood waters caused by recent heavy rains in the oil-rich kingdom.
Actor-turned politician Ranjan Ramanayake who is in constant touch with the stranded workers told the Sunday Times that the situation was worsening by the day with no relief in sight for some 300 Lankans who are known to be currently living under the bridge.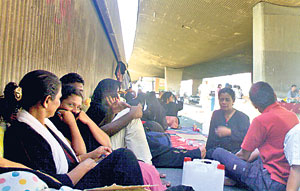 Lankan migrant workers who have taken refuge under a bridge
He added that the recent media exposure had prompted the Sri Lankan Mission in Riyadh to supply two cooked meals each day to the group. "Supplying meals alone is not enough. The solution to the problem is to evacuate the group back to Colombo at the earliest. This responsibility lies with the Bureau for Foreign Employment and the Government", Mr. Ramanayake who is also the opposition leader in the Sabaragamuwa Province said.
He said the authorities have been dragging their feet over the issue, despite the fact that they earn millions of rupees in the form of a fee from each worker leaving the country for employment overseas."These monies should be utilized in cases such as this, instead of uttering false promises and lies", Mr. Ramanayake said.
Deputy Foreign Minister Hussein Bhaila said it was planned to bring the group back in batches whenever there are flights available. He added that a group of 23 persons were brought back to the country earlier this week and another batch of 17 persons were already lined up to leave Jeddah on the next available flight.
He said these persons are without proper travel documents and are allowed to leave that country on Emergency Exit Certificates issued by the Sri Lankan embassy.
"Another issue is the non-availability of flights since all the airlines are over-booked owing to the ongoing Hajj festival," Mr. Bhaila added.