The former Chief of Defence Staff, General Sarath Fonseka, claims his fundamental rights have been violated by the state failing to provide him with adequate security personnel and vehicles for his personal safety. The fundamental rights case will be heard in Court on Wednesday.
General Fonseka, who says he should be provided with at least 600 security personnel, 10 escort vehicles and two bullet-proof vehicles for his personal security, says he has been given only 62 security personnel and three vehicles. He adds that the bullet-proof vehicle he has been given has run its life, having done close to 50,000 kilometres, and that the two jeeps are old.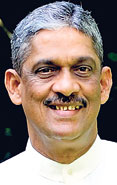 General
Sarath Fonseka
General Fonseka says the LTTE continues to be active overseas and that LTTE cadres are engaged in clandestine operations within Sri Lanka. He says the risk of being attacked by the LTTE is high, and that the risk is likely to remain for the rest of his life.
The petition claims that the state has provided the President with 2,000 security personnel; the former Commander of the Navy, Vice-Admiral Wasantha Karannagoda, with 120 security personnel, 11 escort vehicles and one bullet-proof vehicle; the Secretary of Defence, Gotabhaya Rajapaksa, with some 500 security personnel and about 25 vehicles; the present Army Commander, Lt General Jagath Jayasuriya, with 600 security personnel, including 40 commandos and 25 vehicles, and Member of Parliament Basil Rajapaksa with about 250 security personnel.
General Fonseka says he intends to engage in politics, and that his political duties will require that appears in public several times a day and travels to different parts of the country. He says he will be working at great personal risk, and for that reason would require significantly enhanced personal security.
He cited the case of General Janaka Perera, who entered politics and was assassinated by a suicide bomber. General Perera, General Fonseka says, did not have adequate security.
General Fonseka says that after the conclusion of the war, the state gifted each of the Commanders of the three forces with a piece of land and the accompanying deeds. However, the deeds of the land gifted to General Fonseka have been retained by the Secretary to the Ministry of Defence. General Fonseka is seeking a court order to have the deeds handed over to him.
General Fonseka is also seeking a Court order to be provided with adequate and secure quarters. He says that in recent times the commanders of the armed forces have been permitted to remain in their official quarters for several months after retirement. General Fonseka, however, was informed by letter that he had to vacate his official quarters by November 22.
General Fonseka adds that all retiring Army Commanders, from the time of General D. S. Attygalle, were given promotions on retirement, but that he has not been given a promotion.
The respondents cited in General Fonseka's petition are Defence Secretary Gotabhaya Rajapaksa; Army Commander, Lt. General Jagath Jayasuriya; Inspector General of Police, Mahinda Balasuriya; the Acting Chief of Defence Staff, Air Chief Marshal Roshan Gunatilake; the Secretary to the President, Lalith Weeratunga, and the Attorney General.
Appearing on behalf of General Fonseka are President's Counsel Romesh de Silva and lawyers A. P. Niles and Manjuka Fernandopulle, instructed by Paul Ratnayaka Associates.