Three leading Commonwealth nations – Britain, Canada and New Zealand -- are spearheading a move to deny Colombo the privilege of hosting the next summit. They have raised strong objections on the grounds that civilians were affected during the final stages of the military campaign against Tiger guerrillas.
As a decision is awaited at today's final sessions of the Commonwealth Heads of Government Meeting (CHOGM) in Trinidad and Tobago, the Sri Lankan delegation was busy mounting a diplomatic offensive. Foreign Minister Rohitha Bogollagama told the Sunday Times, on the telephone from Port of Spain, he was hopeful the majority would back Colombo as the venue. However, he said that "if a single member country were to object, then the matter will have to be put to vote by a show of hands."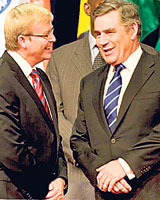 British Prime Minister Gordon Brown in conversation with Australian Premier Kevin Rudd at CHOGM summit. AFP
In Colombo, British High Commission spokesman Dominic Williams said London remained concerned about civilian issues and human rights in Sri Lanka or elsewhere. He said Britain was negotiating with other government leaders at the Port of Spain summit on this issue.
"We are taking into account the final stages of the military campaign during which civilians may have ended up as victims. There is serious concern on the part of the British Government," Mr. Williams said. A report from the British Prime Minister Gordon Brown's Office said: " We simply cannot be in a position where Sri Lanka -- whose actions earlier this year had a huge impact on civilians, leading to thousands displaced people without proper humanitarian access -- is seen to be rewarded for its actions".
Since the conclusion of the war in May, Britain and the United States have been strong critics of the manner in which the war was ended at the cost of thousands of civilian deaths.
They have also called for the immediate release of the Internally Displaced People (IDPS) interned in the Government-controlled welfare centres and urged Colombo to send the people back to their original homes at the earliest.