Ogilvy Action, which completed 10 years of operations in Sri Lanka this year, says it is looking forward to enter the North and East. "Just as we found new channels of communications and new formulae in the past decade, we are now gearing up with a fresh set of plans to serve the new markets that are opening up," said the CEO of Ogilvy Action, Sandya Salgado, in a statement.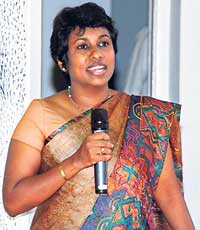 Ms Sandya Salgado addressing the 10th anniversary celebrations of the company last week.
The company says it plans to do a research in the North and East to understand these markets better. "We see some marketers trying the 'plug and play model' in the North and East. This is not how we like to work. We believe that the consumer in the North and East is not as simple a phenomenon as some of us think them to be. This is a market and a group of people whose lives were paused for 30 years. Their demographics and psychographics are not known by the rest of the country. So for starters, we are planning a large scale syndicated research study," said Ms Salgado.
The company says it is already gathering information on the economic dynamics of the North and East. "We are gathering these significant insights - for instance, finding out what makes a Jaffna Fisherman versus a Vavuniya businessman, tick. Their lifestyles and needs are very different. There is the Muslim community, the Hindu community and also the Christian community. We cannot just say the 'Tamils in the North.' We have the Northerners who are Hindus and Catholics, who are farmers, fisher folk, businesspeople and entrepreneurs, and they cannot be generalised," said Ms Salgado. Ogilvy Action says it has already teamed up with Tamil speakers from the areas they want to represent.
rainstorming sessions are held to get insights into their lives. "We can't recreate what we are doing here. What we do for the Tamil-speaking people in Wellawatte won't hold true for the people in Jaffna. Their lifestyles are different – their hopes are different. Their needs are basic at the moment, we have to understand that and be sensitive to that - we can't just somersault there," said Ms Salgado. As an example of these differences Ms Salgado points to the differences in banking habits. "For us 24/7 banking is important, 365-day banking is important, doorstep banking is important. But look at the Jaffna person. For them going to the bank is a ritual. So if we tell them that we will come to their doorstep, they'll not be too thrilled about that. They want to come to the bank, and talk to the teller and give or take the money himself," she said.
Ogilvy Action says service providers should create customised services for the North and East. In their 10th year, Ogilvy also plans to bring some of their global breakthrough communications strategies into the country and adapt them to the local context. This would include new channel development. In addition, the company says it will concentrate in the Maldives more, by opening up an office.