Exporters Association of Sri Lanka (EASL) has commended the government on securing the US$2.6 billion stand-by facility from the International Monetary Fund (IMF) and hopes to see economic development with an improved conducive business environment and a stronger economy accompanied by greater foreign direct investment inflows.
Addressing the AGM of the Ceylon Chamber of Commerce (CCC) recently, Chairperson of EASL Nirmali Samaratunga said the year under review has been particularly challenging to the export sector due to high economic turbulence both internationally and locally.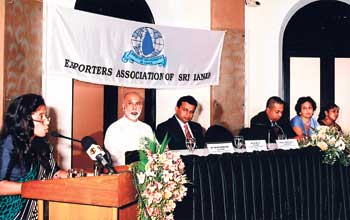 EASL Chairperson Ms. Nirmali Samaratunga addressing the gathering. Members of the head table from left – Dr. Anura Ekanayake – Chairman of Ceylon Chamber of Commerce, Anil Koswatte – Chairman/CEO EDB, EASL Vice Chairman Lasantha Wickremasekera and Ms. Dawn Austin.
Management of the Sri Lankan economy in 2008 and continuing into 2009 has proved a major challenge for the government, Ms. Samaratunga said. While export led growth should remain a priority of the government, infrastructure development, North and East reconstruction and regional development and encouraging Foreign Direct Investment through innovative investment models and incentive regimes also need urgent attention.
Ms. Samaratunga said total exports in 2008 was US$8.1 billion, a 6.5% increase over 2007, 'a further step in our quest towards the US$10 billion export target.' She added that the performance was down from the average growth of 12.7% in the three previous quarters, mainly due to the contraction of the global demand towards the end of the year.
The major export oriented industries of apparel and the leather sector recorded a slower growth of 3.1% in 2008, due to external pressure, following major buyers adopting a more cautions approach in placing orders, and world economic recession. "Easing the present uncertainties in the EU markets regarding the retention of the GSP+ facility for a further period of three years from 2009 and the adoption of eco friendly manufacturing models will no doubt help the apparel sector to withstand the challenges ahead," she said.
Agricultural exports grew 23.1% to US$1.85 billion in 2008, contributing approximately 20% to the export growth, mainly due to the attractive commodity prices during the first half of 2008. Ms Samaratunga said tea exports generated US$1.27 billion in 2008, the highest ever earnings recorded, benefiting from strong international prices during first three quarters of 2008. The sharp drop in tea prices witnessed during the last quarter in 2008 and the crash in commodity prices in general, plunged the tea industry into crisis, compelling the government to intervene with a price support scheme through the Tea Board.