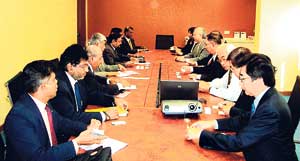 The Sri Lanka team during a meeting with the National Travel Agents Association of Singapore.
A delegation of Sri Lankan Tourism (SLT) officials returned after a comprehensive study tour in Singapore last week aimed at understanding the practices adopted by Singapore Tourism in planning, organizing and implementing sustainable tourism.
The study was funded by the Commonwealth Secretariat, according to a Sri Lanka Convention Bureau (SLCB) press release. Meetings were held with officials from the Singapore Tourism Board (STB), Singapore Hotels Association (SHA), Singapore Hotel Tourism Education Centre ( SHATEC), Singapore Association of Convention and Exhibition Organisers and Suppliers (SACEOS), National Association of Travel Agents Singapore (NATAS), SENTOSA Leisure Group, SUNTEC, National Environment Authority, Changi Airport Group, Hawkers Department and Civil Aviation Authority, among others.
The team was led by Tourism Authority and Promotion Bureau Chairman Bernard Goonetilleke and included Additional Secretary of the Ministry U. Basnayake, Director General-Hotel School Roy Jayasinghe, General Manager – SLCB, Vipula Wanigasekera, Director- Trade Standards, Upali de Silva and Director -Domestic Tourism, Upali Ratnayake.