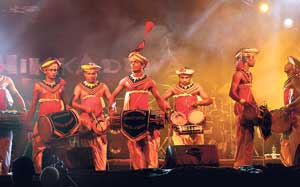 At the opening
Around 8,000 people attended last week's Hikkaduwa Beach Festival 2009 which began on Thursday and lasted through the weekend with a Drum Festival, themed parties and beach sports. Managing Director of the Sri Lanka Tourism Promotion Bureau (SLTPB) Dileep Mudadeniya said the estimate on the number of attendees was made based on the number of rooms versus occupancy, which was 100%, and the number of tickets that were purchased by tourists overseas mainly in the Maldives, India and the Middle East. Initial research has shown that local vendors were very happy as the four days of economic activity will allow them to sustain their business until tourist season begins in November, Mr. Mudadeniya said.
Last year's Festival attracted 10,000 people but Mr. Mudadeniya attributed the higher number due to the long weekend last year that coincided with the SAARC Summit which saw many people going out of Colombo. He also said there were a lot of people who came to watch the cricket matches in Galle last year. However, this year tourists took leave on Thursday or Friday to come in.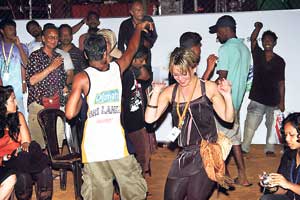 Mr. Mudadeniya said they had to limit the number of people who came onto the beach premises in order to maintain crowd control. "The key objective was for us to create the market we lost in the youth segment from overseas over the past four to five years which decreased by 35% to 40%," he said. "The most important thing is they like youth friendly activities and they are no longer the backpackers that we had some time ago." Mr. Mudadeniya described them as young executives or 'flashpackers' who spend much more. He added that Hikka Fest is gathering a lot of momentum and that a lot of different types of events are needed.
Hikka Fest kicked off last Thursday with a scintillating Drum Festival featuring performers from all parts of the world including Brazil, Colombia, India and Algeria with plenty of local talent mixed in. Famed Indian flautist and Grammy Award Nominee Bikramjith Singh performed with local artists like Ravibandu Vidyapathi. Sharing the stage at the Drum Festival which went on for over five hours were Elephant Foot, Brazilian band Acuri and Colombian percussionist Tato Marenco. Several international media organizations were present to cover the event as well.
Mr. Singh whose album 'Himalaya Whisper' was nominated for a Grammy Award in 2007 said there has been a lot of interest in India on the Hikkaduwa Beach Festival or Hikka Fest as it is commonly known. Mr. Singh who works with top Bollywood actors and musicians said a lot of those whom he worked with expressed interest in attending Hikka Fest next year. When performing in Sri Lanka, he said he always recruits local artists to perform with him as their musical style and rhythm is very similar to that of India.
Percussionist Tato Marenco said his first trip to Sri Lanka was in 2005 to perform at the World of Music and Dance (WOMAD) and always wanted to return.
Mr. Marenco said Hikka Fest was the perfect opportunity to perform. Usually accompanied by a 14-member bank, Mr. Marenco performed with Acuri this year and said he expects wide interest from abroad in Hikka Fest after this year's festival.