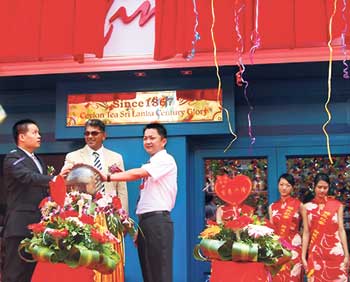 In the picture are President of the Huichen Group, Hwang Ping, and the Chairman of HVA Group, Rohan Fernando.
Sri Lanka's HVA Group, produces of the 'Heladiv' tea brand, last week opened three exclusive tea boutiques in the Fujian Province and Beijing, China. The Beijing Pure Ceylon Tea Company of the Huichen Group, the joint venture partner is one of the leading industrial and construction giants in China with businesses around the world, the Sri Lankan company said in a statement.
A speciality brand called "Infini- T" has been innovated under the Heladiv brand family to suit this top-of-the line customer base in China. "Infini- T" which is best quality tea from Sri Lanka will be served and sold at these new tea boutiques.
This was the very first time a chain of exclusive tea boutiques has been opened with such hype in China, and opening day sales were very good, the company said, adding that Beijing Pure Ceylon Tea Company and Heladiv hope to open 20 more such boutiques in China by the end of the year leading up to 100 boutiques in the next two years.
The tea boutiques were ceremonially opened under the patronage of Sri Lankan Ambassador in China, Karunatileka Amunugama.