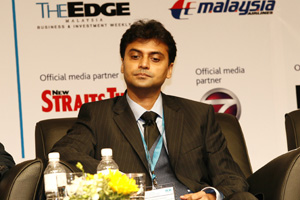 Mr. Thivanka Rangala Group Chief Commercial Officer, Dialog Telekom
CIMA World Conference held in Malaysia last week brought together outstanding business speakers from around the world. The World Conference 2009, themed "The global Village - No Boundaries, No Limits" provided the participants an opportunity to hear and network with business leaders who have successfully transcended global barriers to reach the top of their industry. Around 600 delegates from 30 countries attended the conference.
Two eminent speakers from Sri Lanka were at this two day conference. Mr Dusan Soza, Executive Vice President, WNS Global Services, and Thivanka Rangala Group Chief Commercial Officer at Dialog Telekom PLC were the two business leaders who delivered presentations at the conference. Dusan Soza elaborated the topic on outsourcing as managing costs, shaping the future.
In his presentation he emphasized the current trends in outsourcing and the advantages of outsourcing while focusing on gaining competitive advantage. Competitive advantages both short term and long term include not only labour and cost arbitrage but also variable re-sourcing, economies of skill and shared services. Companies look for optimum value creation for their organizations through outsourcing and look for holistic solutions and going global.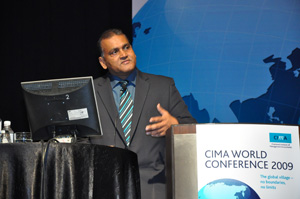 Mr Dusan Soza, Executive Vice President, WNS Global Services
He also shared a case study of Sri Lankan F&A Operations and its outcome and ended his presentation with thoughtful hits for success and prediction of some industry specialists for the future.
M. Dusan Executive Vice President, WNS Global Services Sri Lanka.
As managing director and executive vice president, Dusan Soza has been responsible for spearheading WNS's business process outsourcing operations in Sri Lanka. The company is now a forerunner in the BPO industry and has won numerous awards and recognition.
The WNS Group employs over 23,000 professionals operating from a number of locations spread in India, Romania, Philippines and UK. As well as being an engineer by profession with over 20 years of international work experience, Mr Soza is a former professional cricketer. Thivanka Rangala's theme of the presentation was "Inclusion", the use of technology as a digital bridge rather than to increase today's digital divide.
In today's world we look to connect everyone everywhere, the way to do this would be to use technology.
Cross inclusion allows activities such as banking, ticketing advertising and a wide range of other industries to be utilized via your mobile, whilst there is a challenge in today's economic environment.
New technology of next generation networks actually facilitate higher capacity more efficiently hence more of the population can enjoy facilities which cannot be taken for granted.
The Mapping of the triple bottom-line into corporate results and monitoring would be the ideal way forward to motivate and reward companies that create value which is far more than what is invested in the company. Overall dialing into value creation is about using technology to improve people's lives in an environmental friendly way, and by the company investing in its operations the value created to various stakeholders is far in excess than the value invested.
He is responsible for the Group's business development, new business operations, supply chain management and investor relations. During his tenure, he has served in many capacities, primarily heading the corporate finance function of the company and he has engaged in and led several strategic initiatives including acquisitions, project management, CRM, content management and general management of the company's R&D activities. Thivanka also played a key role in the lead up to the company's record breaking listing initiatives (IPO) and the SAP implementation.