British College of Business Studies (BCBS) was formed with the intention of providing students with a wide-ranging and solid academic education and to represent reputed international education institutions in Sri Lanka. The purpose of our endeavour is to encourage students to fulfill their educational ambitions in many disciplines by receiving quality education in dynamic Tertiary Institutions and Universities with established international recognition. British College of Business Studies is affiliated with the prominent London School of Business and Management.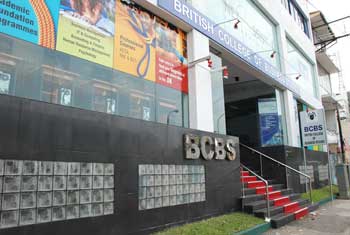 Located in the heart of London's academic community, the London School of Business and Management (LSBM) is an established private higher education institution and a Registered Centre of the Chartered Management Institute (CMI) that specializes in providing internationally recognized Business, Accounting, IT and Management qualifications to students from all over the world.
At BCBS we offer a Diploma and Advance diploma awarded by LSBM for students in Business and Information Technology which will enable them to progress to British Bachelor Degrees.BCBS will also conduct Higher National Diplomas in Human Resource Management, Psychology and professional courses and corporate workshops for working professionals who are eager to enhance their career prospects acquiring new knowledge and skills. Professional courses will be conducted about Change management, Investment management, Financial Accounting, Marketing management and Business communication.
We are also honoured to be affiliated with ACCA (The Association of Chartered Certified Accountants) UK founded in 1904 with a track record of over 100 years, the world's largest, most highly regarded and fastest growing international accountancy body. ACCA has a student body of 325,000 and 125,000 members in 182 countries. ACCA combines the benefits of traditional accounting skills with a wide-ranging and forward looking syllabus, which recognizes that finance professionals are increasingly required to demonstrate strategic thinking, excellent communication people skills and fluency in information technology.BCBS carry outclasses for CAT and ACCA.
We will also affiliate with the Chartered Institute of Marketing (CIM) the world's largest and most professional body for marketing to conduct all Professional Marketing qualifications. Our Management and Lecture Panel are dedicated to enhancing the student learning experience at British College of Business Studies.
Foreign lecturers, consultants will be brought down from UK specially for coaching the students and to guide them in their higher studies.