Royal Institute of Colombo, also known as RIC needs no introduction when it comes to the apex of the premier English medium private educational institutes in Sri Lanka. Being an institution that focuses mainly on providing a world class learning experience to all those who enrol, RI has over the past years proved again and again its academic excellence with outstanding results in the many fields of education that's provided in its curriculum.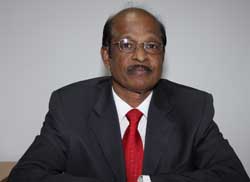 G.T. Bandara, the Chairman of RI
With loads of experience in the field and more expertise than most of the other institutes that offer similar courses and diplomas, RI has now opened new doors for the Sri Lankan students with its affiliation with the University of London and London School of Economics in Colombo to read for their degrees in the comfort of their homes. RIC started teaching the programmes that were conferred by the University of London and the London School of Economics and Political Science (LSE) in 1990 by introducing the teaching of two degrees, namely BSc Economics and LLB. Over the years RI has built on and started on the teaching of many degrees in many different areas such as Accounting, Banking, Business, Development, Economics, Finance, Information Systems, Law, Management, Mathematics and Sociology.
"There are many unique advantages in taking these programmes with us," said G.T. Bandara, the Chairman of RI. "Our programmes are kept up to date with what's being taught in the London University and also they are constantly being monitored by the London University academic staff to make sure that the programmes are up to the right standards that they have set," he said. London School of Economics has ranked at an impressive second place in England in respect of studies all around whereas they hold the first place in England when it comes to studies related to Economics.
"Study guides are also sent by the London University and they even provide a list of the recommended books as they are very stringent about the quality of education we provide to our students," Bandara said, adding how RIC strives to make and maintain the perfectly productive academic environment for both the students and the academic staff.
The academic staff of RIC, who comprises of both permanent and visiting lecturers, have been picked after assuring that they are up to the job at hand. The permanent staff consists of Senior Lecturers, Lecturers and Assistant Lecturers. The lecturing panel has been carefully picked and selected from the best in the country and the senior lecturing panel includes lecturers who have qualifications at Masters and/or PhD levels in their respective fields.
The teaching methodology at RIC includes lectures and also interactive and self learning. Students in diploma classes receive more time for tutorial and discussion classes whereas in general one third of the contact hours in each class is allocated for discussion and tutorial classes. "Monthly assessments are made and we are very particular about student involvement and attendance when it comes to education," said Bandara.
Students can refer to the recommended text books and supplementary reading materials available at the RIC library or the internet when the need for additional information arises. This is in addition to the study guides, past examination papers which are supplied with the guidelines and also the self preparation prior to lectures.
RIC's examination results too, have been improving over the last six years, with a 99% pass rate in the candidates who sat for their BSc and LLB degrees in 2008, there need be no further assurances about the excellent reputation the institute seems to be upholding academically.
RIC also conducts a foundation course for those who need additional help in the field of English as all students, regardless whether their mother tongue is Sinhala, Tamil or any other language receive their education at RIC in one international language, English.
The RIC Library, which is fully furnished and automated features with a collection of over 12, 000 books in various fields of study, most of which are hard to locate locally and also CDs covering the essential textbooks, supplementary books and also other recommended reading material which are recommended by the University of London for the various programmes that are offered.
In addition to this, students also have access to the on-line databases and encyclopedias, provided on request. Students reading for the Degrees and Diplomas of the University of London are also provided with online access to the University library as well.
"We at RIC are committed to maintaining high standards of discipline and decent behaviour, and I can confidently say that our institute remains to be one of the best when it comes to student discipline as well," said Bandara.
"This is strictly not a business minded venture of making quick money but providing a quality learning experience for the students is our main objective," he added.