Background
Informatics Institute of Technology (IIT) established in1990 is the oldest private tertiary education institution offering British undergraduate and postgraduate degrees in Sri Lanka. IIT has played a major role in university education in the private sector complimenting the state universities' provision. In this global world the degree programmes at IIT have an international outlook in addition to their relevance to society.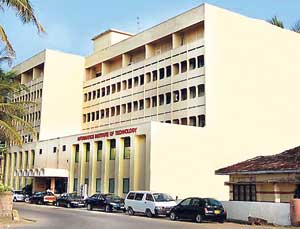 Staff at the Institute has always endeavoured to give opportunities to students to stretch themselves, test their own limits and realize their full potential.
Course and collaboration
IIT offers Foundation, Undergraduate and Postgraduate programmes. The degree courses offered are BSc (Hons) Information Systems with Business Management, BEng (Hons) Software Engineering and MSc in Advanced Software Engineering. These programmes are extremely popular among students
IIT collaborates with the University of Westminster (UoW) London, which has a long established reputation for innovation, academic excellence and accessibility of its taught programmes and applied research. The spirit of international collaboration and applied learning are central to the university's ethos today.
Westminster was the first modern university to be awarded the prestigious Queen's Award for Enterprise.
Industrial placement
Learning from the experts in the industry and doing the job in the real time work environment gives them confidence and grooms them to the needs of the industry. Students get an opportunity to apply themselves and put into practice what they have acquired in the first two years of study on the degree programme. When they succeed in applying themselves, the students start to believe in their own ability and that brings the best out of them.
In the final year students make use of their industrial experiences and work on industry oriented projects. Most students get an employment offer at the end of the Industrial Placement period from their respective employers. Some students have done their placement year in Germany and Norway.
Cutting Edge Exhibition
The Cutting Edge has been a major source of tertiary student projects to the National Best Quality Software Awards (NBQSA), conducted by the British Computer Society (BCS) of Sri Lanka. Over the years IIT undergraduates have won gold, silver and merit awards at this national event. Students have also participated in the regional Asia Pacific ICT Awards (APICTA). Several research papers arising out of these projects have been presented at international and local conferences.
Alumni
To date over 1,800 students have graduated. Most are employed in premier mercantile companies including John Keells, Unilever, Aitken Spence, IBM, Hatton National Bank, Informatics, Millenium, Ceylon Tobacco, Industrial and Financial Systems, Commercial Bank, Virtrusa, Zone 24x7, Creative Solutions, Aeturnum, NDB, etc. Some have ventured into setting their own business. In the government sector our graduates are now in the forefront introducing IT to the Police, Navy and Air- force.
Our graduates are also employed in UK, Germany, USA, Singapore, Middle-East, Australia and the Maldives competing in the international market. Some are continuing their postgraduate studies up to PhD level.
The key stakeholders of IIT are its students and their parents - not to mention the business community. They all have a common need for high quality graduates with internationally accepted qualifications at an affordable Sri Lankan cost.