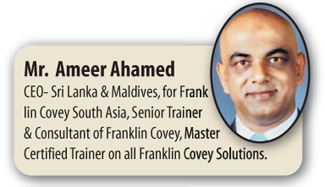 After a comprehensive understanding of the principles and paradigms of Human Effectiveness in many forms and with examples, now let us look at the Habits in detail. Be-Proactive - This is the first habit of "Seven Habits of Highly Effective People" This is also the habit of Vision, where an individual develops the habit of Responsibility.
Habit one is the key to unlocking all the other habits and that is why it comes first. Habit one says "I am the force", I am the captain of my life, I can choose my attitude and I am responsible for my own happiness or un-happiness. I am in the driver's seat of my destiny, not just a passenger.
Proactive or Reactive … the choice is yours.
Each day you and I have about 100 chances to choose whether to be proactive or reactive. In any given day, the weather is bad , you can't find a job, your friend talks behind your back, someone irritates while you are driving , someone calls you names , etc. etc.
So what are you going to do about it? Are you in the habit of reacting to these kinds of everyday things? Or are you proactive? The choice is yours. It really is. You don't have to respond the way everyone else does or the people think the way you should.
How many times have you been driving down the road, when suddenly someone cuts in front of you, making you slam on your brakes? What do you do? Do you fly off at the mouth, abuse them and let it ruin your day? Lose bladder control? Or do you just let it go, laugh about it and just move on? Think about it, the choice is absolutely yours.
Reactive people make choices based on impulse. They are like a can of fizzy drink.
If life shakes them up a little, the pressure builds and suddenly they explode like hey you stupid idiot, get out of my way or even worse, use abusive language and we have seen very civilized people getting down to third grade levels or to Sinhala language which we will not even want to hear, the worst is when you are with your family.
A great way to understand the proactive mind-set is to compare proactive and reactive responses to situations that happen all the time. Let's look at two situations.
Your feedback to the writer ameer@franklincoveysouthasia.com
Situation one
You overhear your best friend criticising you in the presence of a group. She/He doesn't know you overheard the conversation. Just five minutes ago, this same person was sweet-talking you to your face. You feel hurt and betrayed.
Reactive Choices.
Tell her off
Go in to a deep depression because you feel so bad about what she said
Decide that she's a two faced liar and give her the silent treatment for two months
Spread vicious rumours about her. After all she did it to you
Proactive Choices.
Forgive her
Confront her and calmly share how you feel
Ignore it and give her a second chance. Realize that she has weaknesses just like you and that occasionally you talk behind her back without really meaning any harm.
Situation two
You have been working at your job for over a year now, and you have been extremely committed and dependable.
Three months ago, a new employee joined. Recently he has been given some recognition that you were looking forward to.
Reactive Choices.
Spend half your working hours complaining to everyone about how unfair this decision was
Scrutinize the new employee and find his every weakness.
Become convinced your supervisor has formed a conspiracy and is out to get you.
Begin to slack while working.
Proactive Choices
Talk with your supervisor about why the new employee has got the recognition
Continue to be a hard-working employee
Learn what you can do to improve your performance
If you determine that you are in a dead-end job, begin looking for a new one.