A UNP candidate contesting the Central Province election has vowed to upgrade Dhamma schools in the province, saying these institutions play a crucial role in the moral development of society.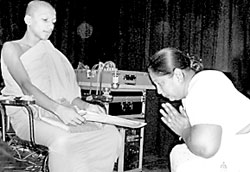 Ms. Kohongahage at the ceremony
Addressing a Dhamma school ceremony at E.L. Senanayake Children's Library auditorium, Shanthini Kohangahage, a UNP member in the dissolved Central Provincial Council, said her programme to develop the Dhamma school system would even go to the remotest village in the province. She noted that some of the Dhamma schools in villages did not have proper buildings or furniture but they were being sustained by teachers devoted to the Dhamma.
Ms. Kohangahage said some of these Dhamma teachers in villages had no other jobs and depended on the small income they got from the schools. She said these teachers should be rewarded and recognized and their status upgraded.