Protests by farmers marred a ceremony attended by Irrigation Minister Chamal Rajapaksa to declare open an irrigation tank in Dambulla last Sunday.
Scores of farmers, who said they were yet to be paid compensation for the land the state appropriated to build the reservoir, disrupted the ceremony and demanded that either they be given alternate land or compensation. The ceremony to declare open the Wemedilla tank, built at a cost of Rs. 25 million, was seen as part of the UPFA election campaign in the area.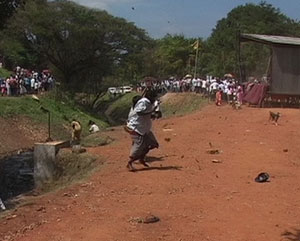 A protestor pelting stones
The protesters said their intention was not to disrupt the ceremony but to bring their plight to the notice of the government ministers.
They said that three days before the ceremony they warned of a protest unless they were assured of their compensation. They said they had been receiving assurances from the province's irrigation minister Jayatissa Ranaweera and other officials that the money would be paid before the ceremony but little or no action was taken to pay them.
The angry farmers first blocked an attempt to build a stage for the opening ceremony. After much persuasion, the organizers managed to build the stage just hours before the ceremony. Some farmers held a protest vigil throughout the night where the stage was to be built. The ceremony, however, began with heavy police presence.Mr. Rajapaksa told the protesters that all those farmers who lost their land would be paid compensiation and alternate land in due course.