Health services in Anuradhapura came to a standstill yesterday when health officers staged a protest to condemn the attack on North Central province Health Services director, Dr. W. Atapattu.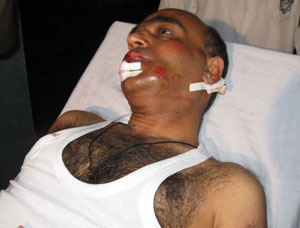 The injured Dr. Atapattu
On Friday evening Dr. Atapattu was assaulted by two unidentified persons riding a motorcycle. The attack took place near the doctor's residence in Bulankulama Mawatha, in Anuradhapura town.
He was rushed to the Anuradhapura Teaching Hospital, and placed in the hospital's intensive care unit. Hospital sources said Dr. Atapattu was suffering from injuries to the face.
Dr. Atapattu said the two assailants were wearing helmets and their faces masked with black pieces of cloth.
Meanwhile, the Government Medical Officers Association (GMOA) has condemned the attack and has called for an immediate investigation.