Hikkaduwa, one of Sri Lanka's premier beach resorts and a dependable revenue earner, has been twice hit, and hit hard, in the past five years – first by the December 26 tsunami in 2004, and then by the global recession.
Hoteliers, restaurant owners, and vendors of textiles, curios and handicrafts in the seaside resort are feeling the pinch as never before. Year after year, residents would look forward to the tourist season and the prospect of good business.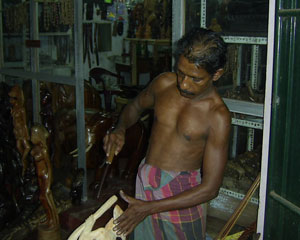 Wood craft business has been badly hit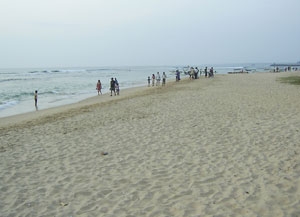 This year, however, has been a major disappointment. Hikkaduwa residents say the global economic crisis has made a huge dent in their earnings. Siri Gunawardene, president of the Tourist Board Approved Hoteliers Association of Hikkaduwa, said tourist arrivals have dropped by almost 50 per cent, compared with last year.
The majority of this year's visitors are repeat guests over 50 years of age. He believes it is the global recession, more than the war in the north, that has affected visitor numbers. He said that if the trend of falling tourist numbers continued, many small- and medium-size hotels would have to close.
Mr. Gunawardena said he had met President Mahinda Rajapaksa to discuss Hikkaduwa's economic plight. He said the President had told him that he had instructed the Central Bank to give hoteliers in tsunami-affected tourist resorts an extra year's grace to pay back their bank loans.
According to Mr. Gunawardena, both the local government authorities and the Excise Department have been collecting rates and taxes as usual in Hikkaduwa, regardless of the difficult conditions faced by the local business community.
Kamal Mendis, owner of the Coral Reef Beach Hotel, Hikkaduwa, said that only two of the hotel's 32 rooms have been occupied so far this season. He says he has to come up with Rs. 53,000 every month to pay off a bank loan he took to repair his hotel after the tsunami. As things are, he can barely manage to pay the hotel's electricity and water bills.T. Harischandra de Silva is both the owner of the Farm House Restaurant in Hikkaduwa and president of the Tourist Board Approved Restaurant Association. He says tourist arrivals at Hikkaduwa have dropped by more than 80 per cent.
Both big and small businesses are feeling the pinch. Nimal, owner of Nimal Wood Crafts, says has been selling wood carvings to tourists for 35 years. He has a stock of goods worth more than Rs. 6 million, but is lucky if he can make even Rs. 150 a day.
R. K. Kulatunga, 42, who has a textiles stall in Narigama, Hikkaduwa, says that some days he does not sell even a single item. Some stalls have closed down, while others stay open for only a few hours a day, he says.
M. N. Premalal, who has a garments business and takes orders from overseas buyers, says he has not received any orders so far this season. He says that these days he would consider himself lucky if he can sell a pair of trousers worth US$40 for even US$4.
Markus Schutti, a Swiss national who is on his sixth visit to Sri Lanka, says adverse publicity in Europe about Sri Lanka, with the war in the north and stories of suicide bombers, may have much to do with the drop in tourist arrivals.
Jokingly, he said tourists in Hikkaduwa were in greater danger from speeding vehicles on the Colombo-Galle highway than from bomb blasts.