LTTE Sea Tiger leader Soosai was reportedly killed in an air attack on Friday evening at Puthukkudiyiruppu Junction, the military said yesterday. The Sea Tiger leader was believed to have been killed inside a "luxury residence" that took a direct hit by the Air Force, Air Force spokesman Janaka Nanayakkara said.
The luxury residence was situated one kilometer north-east of the Puthukkudiyiruppu Junction, he said.
At least 15 others including top aides of the Sea Tiger leader were also believed to have been killed in the air attack, Wing Commander Nanayakkara said.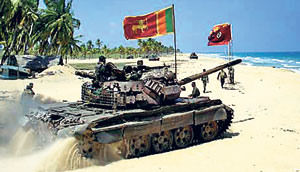 Troops in control of Chalai Sea Tiger base
The air raid was carried out following intelligence reports that the Sea Tiger leader had entered the complex for an emergency meeting with his aides following the fall of the Sea Tiger base in Chalai, he said.
The building is also said to have housed the Sea Tigers' main command room, the spokesman said.
The military came to this conclusion after pilots reported that LTTE ground fighters had made a speedy attempt to clear the debris after the air raid using heavy machinery such as bulldozers etc. in an apparent bid to bury evidence.
The Air Force carried out a second attack on the same area and once again the LTTE ground fighters were seen speedily clearing the area.
"It is apparent that from the actions of the LTTE they were attempting to bury the evidence of a high profile target," Wing Commander Nanayakkara said.