Sports
---
One 'Kane' shot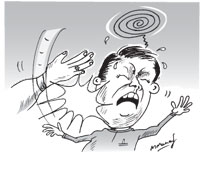 The loud mouthed sports head who thinks he knows it all learned the lesson of his life recently. He who put another VIP into trouble by making a false allegation was given a good 'Kane' shot by a VVIP when he tried to create another scene.

The leech

The leech is in the lookout for another abode. So far nothing is clear as to what would happen next. But, now they say he is behind the minister and hitches rides in his car even to parliament.

The mad duo

Now the duo is mad with the latest developments. The one who went close by is back again trying to upset the picking up of the trend. The other traveller who is in question also has sent a fitting e-mail after learning as to what has happened. At this end he is in trouble.

Laundry committee member

A journo and a member of a leading club were in conversation. The member was explaining "Of course he is supposed to be the second in command. However in our club though he represented it for quite a while and has been a member for longer, he was never recognized as a bright kid and was not invited to be a member of even the laundry committee if ever there was one. However Mr. Knowall thinks otherwise.

Lunch packets

The financial lady who gave the presentation seems to like the lunch packet. Recently she was detected carrying three packets of lunch which are given free to its employees.
|
E-mail
|
views[

1

]