Sports
---
Dharmadasa pooh-poohs Ranatunga allegations
By S.R. Pathiravithana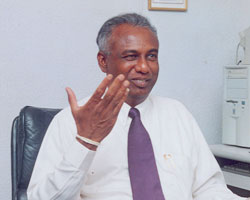 Jayantha Dharmadasa
Former Sri Lanka Cricket Interim Committee Chairman Jayantha Dharmadasa who was mainly at the butt end of the barrage of accusations by his successor Arjuna Ranatunga pooh-poohed all allegations as baseless and said that during his tenure things occurred in a proper way and not in the ad-hoc manner that the SLC is functioning now.

The former chairman answering allegations of financial mismanagement said that his administration was clean and worked with a very efficient team that comprised Treasurer Sujeewa Rajapakse and Secretary K. Mathivanan.

"Every decision that we took was collective, unlike the manner Ranatunga is running the show at present," he said.

Responding to Ranatunga's allegations of irregularities in the audit report, Dharmadasa said he understood that the audit report was prepared based on the information the auditors received from the SLC. "If there were discrepancies in the papers that were received the auditors should have asked questions. They did not approach me for any explanation or the secretary Mathivanan, treasurer Rajapakse or the CEO Duleep Mendis. So I do not know as to how they have arrived at those observations."
Do your job or get out – Minister tells Arjuna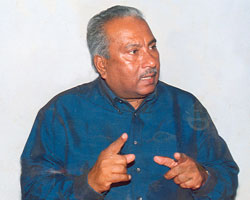 Minister - Gamini Lokuge

Minister of Sports Gamini Lokuge on Friday ordered SLC Interim Committee Chairman Arjuna Ranatunga to investigate into all allegations that he made in parliament with immediate effect.

The Minister speaking to the Sunday Times said "There is no point in making these allegations in Parliament. He has come out with various allegations about the shortcomings in his administration.

He was appointed to that position to run that institution and as the head of that institution he must see to it that there are no shortcomings and if he can't he must go.

"As the minister of Sports it is my duty to run this organisation in a proper manner. On Friday I told him that I would be sending a letter calling for explanation and also release that letter to the media."

Dharmadasa said that when he was handed over the board, it already had run into an overdraft of Rs. 375 million. "We had to undertake the development of Pallekelle Stadium, as Asgiriya was a school ground which was used for various functions and every time a match was played, the SLC had to spend millions to bring the venue up to the level of an international Stadium. That project cost us Rs. 250 million. Then we had to redevelop the tsunami-ravaged Galle Stadium at a cost of Rs. 485 million for the English tour as the tour operators also made a case claiming that there would be a huge shortfall of English tourists who would come to Sri Lanka for the series if there was no match played in the South. At that time there was a dearth of tourist arrivals and this mattered a lot."

Besides these issues, Dharmadasa said the SLC under his administration had the task of tackling the Nimbus crisis. In addition to this, the SLC also lost 1.2 billion rupees when the South Africans left the country halfway through a series as a result of a bomb explosion in Colombo with the insurers refusing to pay up. "There is a case against the insurance company and they will have to pay up one day," he said.
Then he also charged that if they did not do any development work and kept the money still in the kitty, they could have shown even a surplus but as they were there to do a job of work they went ahead accomplishing their tasks.

Dharmadasa did not see any flaws even in the now-called-off Taj TV deal. He said, "We had an agreement with Taj TV. The agreement was extended because we had to fulfill eighteen tours and we had done only thirteen up to the time in question. There were five tours pending with the Indian tour in the balance. This balance we had to give them according to the agreement or else we would have to pay them a penalty.

"Although I signed the papers the decision was taken by the committee. All the minutes are intact and I do not see any problem in a chairman signing an agreement if it is in order. Even in the Nimbus issue they had taken some injunctions against money coming into Sri Lankan from any source other than Dubai. Finally we came to an agreement and settled that too bringing the amount down to five million dollars from a demanded nine million dollars."

Upon this the former Chairman posed another question. "If Ranatunga had all this information why didn't he take any action during the last ten months. Why wait till the last moment."

Finally Dharmadasa put it down to Ranatunga's lack of knowledge in administration and fund management.
|
E-mail
|
views[

1

]