Indian cricket is on a pedestal right now, having beaten the Australians 2 – 1 in a test series and looking a progressive young outfit in the one dayers against England. All this is happening in the backdrop of some of their seniors ending their careers or nearing that.

Of the five citizens Sourav Ganguly was the first to call it a day. His final lap over the past four years was never short of incidents, controversial or otherwise. At the end, as a player and captain, in test matches and one dayers, his record was impressive.
Anil Kumble was the next to hang up his boots, leaving Sachin Tendulkar, Rahul Dravid and V.V.S. Lakshman to continue in the trade. No doubt they will assess their form and future with each series. At this stage, Tendulkar who was the first to enter the International fray seems likely to be the last to leave. Although not his former self, when the runs flow they are valuable for India. Ten years ago not many would have predicted that Anil Kumble would receive a heroes farewell, as India's test captain and leading wicket taker. Then it was the beginning when spinners were reaching the top of the bowler's rankings. From the late nineteen seventies pace and swing began to dominate, through the nineteen eighties and well into the nineteen nineties. The West Indians led the way. England, Pakistan, New Zealand and South Africa on their return to international cricket. India had kept Kapil Dev as their lone warrior. Still every nation strives to produce worthy pace attacks. Now, India and Sri Lanka have also joined in and are producing quick men of quality.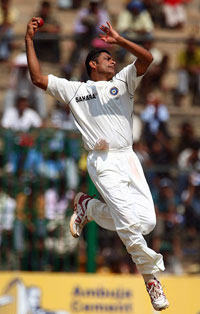 Icon Anil Kumble's void will be felt very soon.
The past ten years have seen the rise of three great spin bowlers - Shane Warne, Muttiah Muralitharan and Anil Kumble. They have brought back the art and guile of the slower deliveries. Warne was the first to arrive on the scene, then Muralitharan and Kumble could be described as the late developer. Add Daniel Vettori and Harbhajan Singh to that list and spin has and is being served well. Showing great promise for the future are Ajantha Mendis and Monty Panesar.

Talent and special abilities ooze out of these bowlers. Perhaps the only exception is Anil Kumble. Watch him run in and bowl. He looks a run of the mill right arm leg spinner. No great deal of spin imparted on the ball, no exceptional variations, simply basic stuff. Yet the record is phenomenal. That is why he is a role model to me. He is the spin bowling version of Steve Waugh's batsmanship. Nothing extraordinary but worth their weight in gold to the team, in terms of performance.

Anil Kumble entered the test scene in 1990. It was the time when India had moved up to be a recognized side in the international circuit. They had two decades previously when quality, if not world class players were produced and winning as a team was beginning to happen. In the next eighteen years he went on to play one hundred and thirty two test matches and gathered six hundred and nineteen wickets.

India's success as a team has been progressing in the past twenty years. In the 132 tests Kumble played in, they won 43 which is a good percentage. The leg spinner totalled 238 wickets in those winning games averaging 5.53 per game. That indicates that he has made a worthwhile contribution towards all those victories.

His most memorable feat was picking up all ten wickets in an innings, against Pakistan, in New Delhi, at the Ferozeshah Kotla Stadium. The lanky leg spinner accomplished what only England's Jim Laker had achieved before in a test match. On a wearing pitch his accuracy was exemplary and the intensity was retained throughout the spell. Crucially his mind was unburdened by the pressure of approaching a major landmark.

Being mentally strong was his greatest asset. Being highly competitive and aggressive was the other. Kumble spent nearly eight years not being a regular in the side. Every time he was left out and he kept coming back and made the performances tell the story. No better role model.

Shane Warne has published a book recently titled, "My Top 100 Test Cricketers". Here's a paragraph on Kumble: "Anil Kumble has the aggression of a fast bowler and I love that. He has the height and he certainly has the competitive temperament.

They talk about quicks breathing fire, but Kumble could set a house ablaze with his passion and commitment on the field. Off it, he is even-tempered and a great credit to his country, with a very clear sense of what is right and wrong. Indian cricket owes him so much, and I think he will be one of those cricketers who isn't really missed until he is gone and the size of the hole he leaves in the team suddenly becomes clear."

= Ranil Abeynaike is a former Sri Lanka cricketer and curator of SSC