The Sri Lankan Rugby team secured a draw and lost a match. Both should have been won. Perhaps it is time to sit back reflect and take stock and look ahead for the future. That is if we think we have one.

To me having seen a team that underwent anxious periods of not knowing who will play and who will captain I do think the boys did well. If only there was just one person with experience the back division, there would have better use of the good work. They would have borne the fruits and sealed both matches. As I look in to the future there may not be a need as the young backs did get the experience and will definitely do better. Then why did we miss what could have been achieved last time. The blame should fairly rest on the shoulders of those who are there as the wise men but don't act so. There is an absolute need to manage if we are to take a step forward.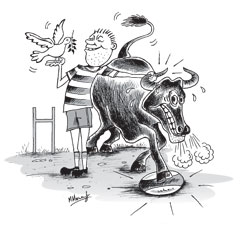 The question is who will take the bull by the horn. Will it be the Minister of Sports who will wield the big stick or the council that has to take the game forward? With the present council coming to the end of its term will we have to wait till February to find an answer? Too late if you look at what is ahead for us.

ARFU has given its blessings for Sri Lanka to hold the under twenty sevens tournament. Possibly this would be in March following the Hong Kong Sevens. Sri Lanka if invited will also have to prepare for the Hong Kong sevens. Then possibly in April there will be the Asian 5 Nations division 1 tournament. Yes it is the same division 1 that was played over the last week end in Taiwan. This tournament which should have been played earlier was postponed in 2008 due to logistical issues.


In 2009 it will get back on track and is likely to be played in April. In the tournament in 2009 will be Arabian Gulf who has dropped from the five nations series. The others besides Sri Lanka include Taiwan and Thailand who get kicked upstairs. With Arabian Gulf taking number one slot having been previously in the Asian 5 nations. Thailand will take last place as they climb from the bottom. Sri Lanka is likely to play Taipei as the tournament gets back to the original format.

Lanka will have her hands full up to April. This would mean that the boys have to continue to be together and play together up to April. This also requires the selection of pools for the National squad, the under twenty sevens and the National Sevens team.

We will not have rugby in the local scene and then the logical course of action is to continue with the squad that went to Taiwan. Who is to take that decision? We also need to decide on who will pick the under twenty squad and the National sevens squad. Easy answer is that this will be done by the selectors. The question however is whether there is a team of selectors. The Minister says that the resignations have not been accepted. Some of them I have spoken to say we have resigned and have not withdrawn the letters we submitted to the minister.

Just as we selected two captains why not have two teams of selectors. Then when one set is removed or resigns the other could continue. Continuity will then be there even if it puts King Kekille to shame.
Let's get serious and find answers to this question without any further bickering also without trying to outdo the other in the game of issuing statements. Even if the Selectors are in place one needs to have a Coach and or a Trainer in place. From what I know the Coach will leave in the first week of December as their term ends. But there is work to be done as there is a full hand of tournaments in the first quarter of 2009. Who will take the decision to appoint a new coach or retain the present duo?

Questions, and issues and it seems we have too many of them woven around us. Lets us not fight to the end among ourselves and expect the game to take its own course .It is all shoulders to the wheel if we are to progress. It is time we stopped the merry go round that is running to music which if out of tune. May be to some it is yet another chance to on the computer in this age when we have forgotten the typewriter. But the work is the same to write incite while slinging mud at each other. Who has more egg on the face will not be the winner that is needed. The winner we seek is a winner of rugby for rugby.

= Vimal Perera is a former Rugby Referee, coach and Accredited Referees Evaluator IRB