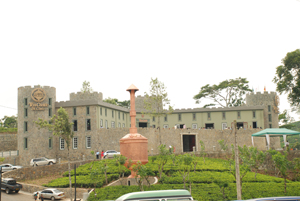 "Tea Castle" in Talawakelle
Euro Scan Exports (Pvt) Ltd., owners of the Mlesna tea brand last week opened the "Mlesna Tea Castle" the biggest of its kind in Talawakelle recently. The Mlesna Tea Castle is situated overlooking the Devon Fall and picturesque Devon and St. Claire valley at the 82nd km post on the A7 highway, according to a company statement.
"A pioneering venture by Mlesna, this breathtakingly beautiful Tea Castle is built in medieval Scottish style as a tribute to the father of Ceylon Tea, Scottish tea planter James Taylor," said Anselm B. Perera – Managing Director, Euro Scan Exports. "The Mlesna Castle offers an ambiance of tranquility in which tea connoisseurs could select their favourite teas from an array of exquisite products" he further added.
The Castle Museum displays interesting tea artifacts of yesteryear with educational photographs depicting the early years of the tea industry. The Castle Restaurant with its unique ambiance adds great value to the tea experience by creating the right mood for enjoyment and relaxation. The specially designed Viewing Tower at the Mlesna Tea Castle offers an opportunity to enjoy the magnificent view of the Devon Fall and St. Claire valley complete with the mist and lush green hills of this breathtakingly beautiful landscape.
Launched in 1983, the Mlesna brand of the finest pure Ceylon Tea is marketed worldwide by Euro Scan Exports in more than 50 countries.