Sri Lanka's private sector health care is to be transformed to a more affordable service for all sections of the society with the opening of the new Nawaloka new hospital complex next week.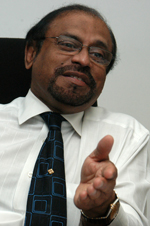 Professor Lal G. Chandrasena
The complex will have a highly skilled staff numbering around 2,000 including 700 specially trained nurses and specialist doctors backed by state-of-the-art and modern medical equipment to treat patients. In an interview with The Sunday Times FT, Director / General Manager of Nawaloka Hospitals, Professor Lal G. Chandrasena said as a result of this expansion, Nawaloka Hospitals will now have a total floor area of 300,000 square feet, the new complex being 80,000 square feet, thus making it the single largest private hospital complex in the country.
The new complex will be open on Tuesday by President Mahinda Rajapakse. The total cost for the project was in the region of Rs.1.5 billion.
The new complex has eight floors, each having a floor area of 10,000 sq. feet. Prof. Chandrasena pointed out that as a result of the new complex, Nawaloka Hospital's bed count will be at 400, "Our nurse to patient ratio is currently 1 to 4 in the wards and 1 to 1 in the ICUs. While we will now have a total of 85 consultation rooms, 2000 consultants who can be channeled and 200 consultants visiting the hospital on a daily basis".